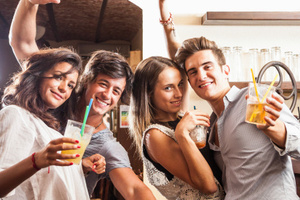 Excessive alcohol causes brain damage over time, but new research suggests this could be reversed with regular exercise.
Researchers from the University of Colorado found that light, frequent exercise like running, walking or cycling was related to less damage to the brain's connective tissue - or "white matter" - among alcoholics.
"We found that for people who drank a lot and exercised a lot there was not a strong relationship between alcohol and white matter," said lead researcher Hollis Karoly, a neuroscience student.
"But for people who drink a lot and don't exercise, our study showed the integrity of white matter is compromised in several areas of the brain.
"It basically means white matter is not moving messages between areas of the brain as efficiently as normal."
This "white matter" is made up of nerve cells that are vital to brain function, Medical Daily reported. When they degrade, it becomes hard for different parts of the brain to communicate and coordinate behaviour.
Karoly's team recruited 60 participants with a moderate to heavy alcohol consumption. They each completed a brain imaging scan, tracking the direction and movement of water molecules travelling along the nerve fibers in the brain's white matter. They also completed a questionnaire about their drinking habits and were quizzed on their physical activity.
The study's co-author, psychology professor, Angela Bryan, said exercise is helpful in repairing the part of the brain damaged with heavy drinking.
"It might even be a more promising treatment approach for alcohol problems because it is both a behavioural traeatment and a treatment that has the potential to make the brain more healthy," Prof Bryan said in a statement.
"The healthier the brain is, the more likely a person with alcohol issues is to recover."
The study was published in the journal Alcoholism: Clinical & Experimental Research.
- www.nzherald.co.nz