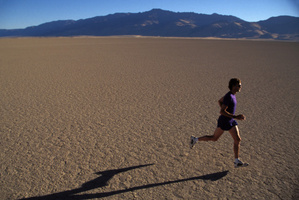 "I find if I run over 30 kilometres it hurts.''
That's probably not a line you'd expect to hear from a man who is about to tackle the most gruelling footrace on Earth.
But Jonathan Goslin, 26, isn't your typical ultra-marathon runner.
The London-based New Zealander only entered Morocco's Marathon des Sables (MdS) after some tough talking in the pub.
Goslin and his Scottish mate Mark Croxford both said they'd be up for it - and pride wouldn't allow either to back down.
Now, two years later, the pair are about to run the equivalent of six marathons in as many days - in the Sahara desert.
Nevertheless Goslin isn't going too deep in training.
"I don't want to push myself,'' he says from a London cafe.
"I find if I run over 30 kilometres it hurts so I don't want to run anything further than 30 kilometres at a time in training.
''(Instead) I want to do lots of half marathons back to back.''
Goslin's logic makes sense - kind of.
He argues no amount of training is enough so he's banking on something else.
"The majority of it is mental toughness,'' he says.
"And that's something both Mark and I are pretty good at.
"We're pretty dogged in our determination to finish things.''
Goslin is also honest when assessing his ability to deal with the heat that could reach 50 degrees Celsius during the race in early April.
The average daytime temperature in Morocco at that time of year is 30C.
"This is probably the funnier bit - I'm a winter person,'' the keen skier says.
"I can adapt easier to the cold than the heat.
"With anything over 35 degrees I slow down.''
Goslin plans to acclimatise in the week before the event by donning lots of gear and running on a treadmill. He'll also sweat it up in a sauna.
The MdS covers 250km over six days with the exact route not released until day one. Stages vary from 20km to the longest day at 85km.
It began in 1986 with just 23 runners. This year 1000 competitors will take part. The fastest guys do it in under 20 hours.
"That's just a joke,'' Goslin says.
"They are running 3.5 or 4 hour marathons through the desert. Madness.''
The 26-year-old isn't setting a time goal but is simply aiming to finish.
But that doesn't mean he's not a serious runner.
He completed the 2010 Berlin marathon in just over 3.5 hours.
In the MdS runners carry everything they need except water and the tarp they sleep under.
Goslin's clothing, food and electrolytes will be packed into a 30-litre running pack on his back.
A 5-litre front-pack will hold his water and on-the-run snacks.
The investment researcher hopes to keep his load under 10kg.
Compulsory equipment includes a signalling mirror and anti-venom pump.
Back in 1994 Italian Mauro Prosperi lost his way and was found 12 days later some 400km away in Algeria.
He reportedly survived by eating snakes and drinking his urine.
On the food front rules stipulate competitors carry 2000 calories for each day.
Breakfast for Goslin, from Pleasant Point near Timaru in the South Island, will be porridge and dried strawberries. Dinner will be dehydrated meals.
Lunch is the "tricky one'' with many runners using power bars and gels.
But Goslin knows if you have too many you can end up with stomach cramps.
In 2011 Australian Stuart Gibson came 11th in 35.5 hours. He lost 14kg during the race - 18 per cent of his body weight.
Goslin says he can't afford to lose that much as he only weighs 63kg to begin with.
"Jesus there'd be nothing left,'' he says.
Apart from dehydration and heat exhaustion the biggest danger is blisters.
There are 50 doctors and support staff at the event - all apparently infamous for cutting competitors feet open.
"If you've got blisters they'll literally cut it off, (apply) iodine and tape it up and off you go,'' Goslin says.
He'll be wearing special neoprene gaiters to stop sand getting in his runners. Goslin will also wear socks with individual toes to reduce rubbing.
At the moment his London training regime involves a half marathon two or three times a week - about 50km to 75km.
There's also some cross-training gym work and cycling thrown in.
In mid-February he did a marathon along the Devon coastline.
The cross-country event included 1800m of climbing and descending, which took Goslin almost seven hours with 5kg on his back.
He happily admits he did "nothing'' training-wise in 2011.
In the first six months of 2012 he and Croxford started talking about training but they only really ramped up preparations in October.
"Which is woefully inadequate, probably,'' Goslin says.
But nevertheless he's extremely confident he'll finish.
"I just like running,'' he says.
"I'm actually enjoying more the long slow runs rather than the fast short ones.''
* Goslin will be raising money for Christchurch's Ronald McDonald House which looked after his younger sister when she was ill. Donations can be made here.