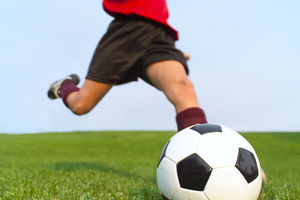 Children's sport would be almost non-existent without support from multinational fast food companies, an academic says.
A University of Otago study into unhealthy food and drink sponsorship has found a third of food and beverage companies sponsoring sport in New Zealand could be classified as unhealthy.
The authors of the study, published in the journal BMC Public Health, reviewed the websites of 308 sports organisations across 58 sports to identify sponsors and spoke to national and regional sporting organisations.
Sponsors were classified as healthy or unhealthy using criteria for energy, fat, salt and fibre levels.
Associate Professor Louise Signal said rugby had the unhealthiest sponsorship by far, with 23 per cent of brands and logos linked to unhealthy food. In comparison, only 1 per cent of netball sponsorship was linked to unhealthy food.
And the level of sponsorship from multinational corporations like Coca-Cola and McDonald's - the two greatest sponsors of sport in New Zealand - made it almost impossible for most kids' sports to exist without it.
"As researchers, all our kids play sport and so we know that [sports groups] need the income. But it's just a case of thinking harder about where the income's coming from," she said.
She said sports groups should be encouraged to accept endorsements only from healthy food companies, and the Government should help fund the phasing out of sponsorship linked to unhealthy foods.
Dr Signal said the cost to the Government would be many millions of dollars, but she said it would be much less than the cost of health problems such endorsements contributed to.
A similar strategy has been used by the Western Australian public health board Healthway, which last month announced almost A$1 million ($1.22 million) in funding for junior football to reward the sport for "boycotting fast-food endorsements".
Healthway has also stripped thousands of dollars in funding from rugby league and union bodies because of their links with McDonald's.
Auckland University population nutrition and global health expert Professor Boyd Swinburn said there should be regulatory restrictions on the amount of junk food sponsorship children were exposed to - but New Zealand was still in reverse gear.
He said obesity cost about $624m in direct health care costs - 4.4 per cent of health care expenditure - and $100-200m in lost productivity.
Canterbury University marketing expert Associate Professor Ekant Veer said fast food companies would not sponsor sports unless they knew it would encourage kids through their doors and buy their products.
"In a perfect world, we wouldn't use it ... but the reality is these companies have got big, deep pockets and they're the ones who are willing to support these sports teams to the tune of providing free kit, training equipment and all these certificates."
NZ Football chief executive Grant McKavanagh said the organisation would shy away from a sponsor which was not mindful of people's health, but McDonald's - which supplied 'player of the day' certificates to players as young as 4 - had a long-term view towards healthy options.
"We love every dollar, but we're a socially responsible sport. We understand that we're here to promote the health of children - playing sport is about enjoying a healthy lifestyle," Mr McKavanagh said.
NZ Rugby Union public affairs general manager Nick Brown said sponsors were critical to the financial security of the game and like any sport or event, rugby had "a range of sponsors from a diverse set of sectors".
"We don't believe our sponsors detract from our message to youngsters and adults that rugby is a great activity that promotes fitness and community."
Sport NZ chief executive Peter Miskimmin said commercial partners played an important role in the sport and recreation sector, especially in today's tough economic climate.
"As with all things in life, balance is required and sports need to carefully consider which partnerships are right for them and their community."
FOOD SPONSORS OF MAJOR SPORTING TEAMS
New Zealand Rugby Union:
- Coca-Cola
- Steinlager
- Sanitarium
New Zealand Warriors:
- Wendy's
Breakers:
- Pak'nSave
- Gatorade
- Meadow Fresh
Silver Ferns:
- New World
- Pump
- Wrigley's Extra
New Zealand Football:
- McDonald's
Black Caps:
- Tui
- APNZ