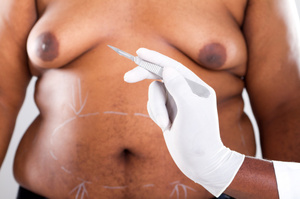 A 28 per cent increase in operations to get rid of "man boobs" last year shows men are more willing to go under the knife to get the physique they want, new statistics show.
About 40 per cent of men are estimated to have gynaecomastia, the excessive development of male breasts, and that number is thought to be rising.
The figures were released by The Private Clinic in London, where Dr Dennis Wolf said he had "certainly noticed" an increase in the number of men who had been in to enquire about the procedure.
"Today men are more aware of the treatments available to them and are more open to the possibility of undergoing a cosmetic procedure in a bid to get the shape and the physique that they would like," he told the Daily Mail.
Spokeswoman for surgery group Transform Pat Dunion agreed that the procedure was on the rise.
"More and more men who are feeling self conscious about the size of their chest area are turning to chest reduction surgery - also known as gynaecomastia - to overcome their problem and boost their confidence," she said.
"With male celebrities like Matthew McConaughey, David Beckham and Tom Daley regularly showing off their super toned bodies, men have become far more aware of how they look."
The most recent statistics released by the British Association of Aesthetic and Plastic Surgeons (BAAPS) show that male surgery accounts for 10 per cent of all cosmetic procedures, Medical Daily reported.
"Moob" operations are the second most popular of these, with the number of surgeries doubling in the last five years.
While it is widely believed that man boobs are solely a product of obesity, BAAPS experts say there are other causes too.
Hormone imbalances between estrogen and testosterone can cause gynaecomastia, as can some antidepressants, liver and heart medications.
Breast surgery specialist Professor Kefah Mokbel told the Daily Mail that some men were also genetically predisposed to developing "moobs".
"Why one man's breasts will go on to develop more than another man's is genetically determined in the same way that some women will have bigger breasts than others,' he said.
- www.nzherald.co.nz