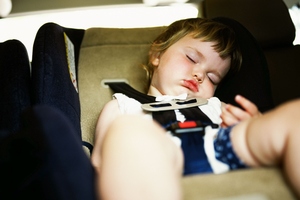 Children are projectiles when they are not properly restrained, police warned, after a mother pleaded guilty yesterday to driving charges, including driving with seven unrestrained children, three of whom were in the boot.
Tracy Wiki Jean Waihape, 39, was appearing in Napier District Court yesterday on four charges after an incident in Wairoa on August 5. She pleaded guilty to driving while unlicensed, failing to remain at a checkpoint, failing to stop and resisting arrest.
Judge Jonathan Down entered convictions on all four charges and sentenced Waihape to 80 hours' community work for resisting arrest.
Road policing Senior Sergeant Greg Brown said when "children aren't restrained they become projectiles".
"Nobody wants to find a child on the road having gone through the windscreen."
When police stopped Waihape they found she had a 2-year-old and a 3-year-old in non-compliant car seats and two 14-year-olds unrestrained.
Waihape fled the scene, and took police on a 2km pursuit that reached speeds of 65km/h. With Waihape eventually in custody, police discovered three more children, aged 4, 5 and 10, under a cargo cover in the boot.
The vehicle's warrant had expired in 2011, the registration in 2012 and Waihape was unlicensed and had been forbidden to drive since 2010.
Waihape's lawyer, Philip Jensen, said yesterday that the case was "a matter of panic".
She thought her children would be left beside the road if police impounded her car.