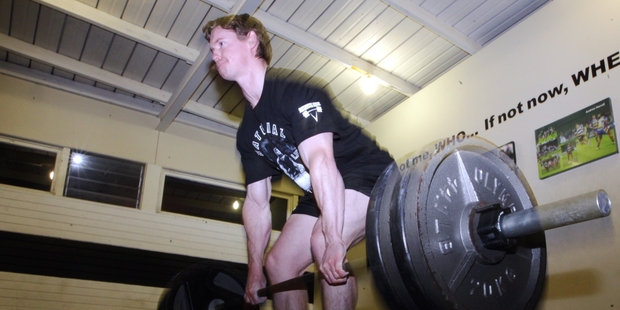 When he started, Richard Watson was "da man" but nine months on his rivals have pushed him to third place.
Watson, of Napier, became aware of the reshuffled order at the national powerlifting championship in Christchurch last week.
The 28-year-old Ocean Spa Gym instructor, who trains at Magpies Gym in Onekawa, accepted his slide with good grace after Josh Tuakua, of Wellington, clinched gold with a total 667.5kg compared with Watson's 640kg.
"I guess the main thing in the sport is to challenge yourself to improve on your previous results rather than try to beat other guys," he said after scoring 240kg with his squat, 130kg in bench press and 270kg in the deadlift of the under-83kg men's class.
"I had the biggest squat and he [Tuakua] had the second biggest bench press and the biggest deadlift," Watson said, after Elijah May, of Christchurch, claimed silver with a total of 660kg.
Ironically in their maiden novice qualifier in the Central Districts competition in Wellington last November, Watson was first before the regionals at Palmerston North in April.
"I had a total of 650kg and he was 600," he said, adding May also competed at last year's Oceania.
"Last month Josh added 67 kilos and I haven't but it wasn't an unreasonable result and it's achievable."
A few niggly injuries and a "funny build-up" this year had prompted a self-imposed break.
In December, Watson will compete in his first Oceania Champs in Melbourne so he will miss the CD event in November because it's too close to the big one.
A cricket bowler at Taradale High School in a code where size isn't always an issue, he gravitated to weightlifting while pursing his geography degree at Massey University in Palmerston North.
"I liked being strong and getting stronger," he says, after two savvy blokes working out there inspired him.
It helped that the pair had been to six nationals, Oceanias and a world champs in Russia.
"It would be nice to go to the world champs to represent New Zealand some day," he said, with the next one in Finland in June next year.
For the Eastern Institute of Technology sport and recreation graduate, dieting has never been an issue because he has always adhered to a regimented calorie intake.