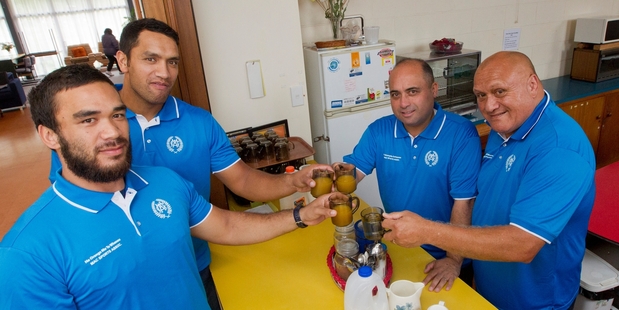 MAC Sports Association club captain Henare O'Keefe is tickled pink his rugby club is attracting world-wide attention for its alcohol-free post-match functions.
"It's a first for our country and possibly the world. It's not about total abstinence - it's about an alternative and we're saying, here, try this," O'Keefe said.
For the second consecutive season MAC rugby post-match functions hosted at Flaxmere's Age Concern clubrooms are alcohol-free. The association's new multi-purpose clubrooms planned for their new Flaxmere Park base by the end of 2018 will also be alcohol-free.
"Our players bring a plate. We also put on a meal for our visiting teams who respond to our teams' waiata. We bring back those old traditional family values which used to be the norm at after-match functions.
"Our players are warriors on the field but at after-match functions they're getting bossed around by their wives and children. The wives do the cooking and the players do the clean-up and vacuuming at the end of the night ...
it's a great atmosphere, a safe family environment," O'Keefe explained.
The club's premier side's vice-captain Jackson Waerea pointed out 70 per cent of the team were non-drinkers and those who wanted beers after a game have a couple in the changing room before attending after-match functions.
"It's isn't a problem for our players who like a beer or for visiting players. We're only talking about a couple of hours," captain Everard Reid said.
Reid, a grandson of one of MAC legend and former All Black, the late Tori Reid, pointed out the stance has seen an increase in Hastings Boys' High School products come to the club.
"It makes us older blokes play better because those younger ones are challenging for our spots."
O'Keefe stressed the association's stance, "isn't a Mormon thing it's a commonsense thing."
"We don't consider ourselves better than anyone else. We see it as a way of restoring our mana ... a way of Flaxmere healing thy self."
"Bridge Pa is our club's spiritual home. But Flaxmere is where most of our players live. This is about living and breathing and moving our community forward," O'Keefe said.
Hastings Rugby and Sports premier team captain Tivaini Fomai told O'Keefe the approach is likely to see MAC attract plenty of Christian players.
A Hastings District Council councillor, O'Keefe, paid tribute to the district's ratepayers.
"I must thank them for having faith and giving us a go. Flaxmere is an opportunity not a disability."
As we left the MAC crew O'Keefe's telephone rang. It was a television documentary crew wanting to find out how they got their non-alcohol approach to work as an Auckland rugby league club was keen to emulate the feat.
"Good luck to them. It's good of them to remember we were the first ... right here in Flaxmere," O'Keefe added before he was thrown a tea towel to dry the dishes.
Napier Old Boys Marist captain Jarvy Aoake said his players have no qualms about going to alcohol-free post-match functions hosted by MAC.
"A lot of our guys don't really drink either. Their stance and what they are trying to create needs to be admired. We've got nothing against it and we're all for them and the identity they're creating in Flaxmere."
Havelock North captain Adam Bradey said his players respect the environment MAC have created and several of them have family connections with MAC.
"When it comes time to respond with a song none of our boys stand out as X Factor singers but Ihaia West backs himself," Bradey quipped.
"Like most grassroots teams our boys have a couple of beers in the changing rooms after a game but if we're going to MAC we know it's alcohol-free when we get there," he added.
MAC will be hosted by Carters Frame and Truss Taradale today. Other Tui Nash Cup encounters will see Tech Group of Companies Napier Technical host defending champions Progressive Meats Havelock North, Hawke's Bay Insurances Limited Napier Old Boys Marist host Tanalised Napier Pirate Rugby and Sports in a Leadbetter-Macdonald Cup fixture, IMS Payroll Hastings Rugby and Sports host Northfuels Central and Tamatea host Clive.