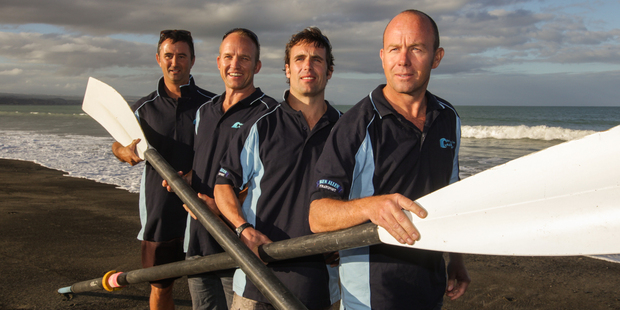 Crikey ... it's Hawke's Bay first, second and third.
Hawke's Bay surf boat masters crews got tongues wagging on day one of the national surf lifesaving championships at Ohope Beach near Whakatane yesterday. Westshore Black won gold, Ocean Beach Kiwi silver and Westshore Red bronze in the 160 years plus (the combined age of the four rowers, the sweep isn't included) short course race.
Sweep for Westshore Black, Jared Fritchley, said although both Westshore teams are in their first season of competing together his team which also included Kevin Russell, Simon Walton, Peter Scammell and Greig Madden, made the trip north with the aim of winning gold. They had the ideal rehearsal at the North Island championships in Waihi last month with a win and two seconds against the Red Beach open crew.
"All of my rowers are in their late 40s and open competitors are young fellahs in their early 20s who have a lot more spare time to train and are a lot more fitter," Fritchley said.
He pointed out three of his rowers last competed 20 years ago and only got back into the sport this year because they have children who are involved in junior surf.
"They came down to watch their kids and decided to compete again.
"In saying that we are pretty serious. We do a lot of post race analysis with the aim of fixing things which require attention as soon as possible ... unlike some of the older crews we're not here to drink booze."
A Westshore competitor for the past five years, Fritchley, has been involved in surf boat racing for 16 years and has also competed with Manawatu and Bay of Plenty crews. While the Westshore Red team travelled home last night to enable their team members to work today Westshore Black and Ocean Beach Kiwi crews remained at Ohope with the aim of competing in open events during the next three days.
"Obviously it will be tough for us in the open events but if everything goes well we could get a semifinal," Fritchley said.
Open short course heats will be staged today, long course heats tomorrow, and semifinals and finals for both courses on Sunday.
Former All Whites soccer player Marty Akers was joined by Bruce Bates, David Goldie, Adrian Barclay and sweep Matt Mannington in the second placed Ocean Beach Kiwi team. It's the second season together for all apart from Goldie who Mannington branded as "an ideal outdoors man".
Mannington had a 20-year spell from the sport before taking it up again last year, Barclay is a multisporter and Bates a former club rugby player.
"We finished 14th in the open short course section last year and was to improve upon that finish during the coming days. But our main goal now is to beat the Westshore lads after they beat us for gold today," Mannington said.
Westshore Red captain Jude Minor said his team which also included Regan Cotter, Aidan Callaghan, Daniel Murfitt and sweep Trevor Miles travelled to Ohope with simple expectations.
"Our first goal was not to fall out and our second was to survive," Minor said after his crew returned home last night.
He pointed out the camaraderie and rivalry with Westshore Black as well as Ocean Beach Kiwi was a key to the Hawke's Bay trifecta.
"Once the Hawke's Bay championships finished last month the three crews got together for regular training sessions and encouraged each other along. We had three early morning training sessions each week ... we did the hard yards."
Westshore was a force on the national surf boat racing scene in the 1980s and Minor is predicting more Hawke's Bay crews will be in action next year.
More than 1600 athletes across under-16, under-19, open and masters divisions are in action at the nationals which end on Sunday.