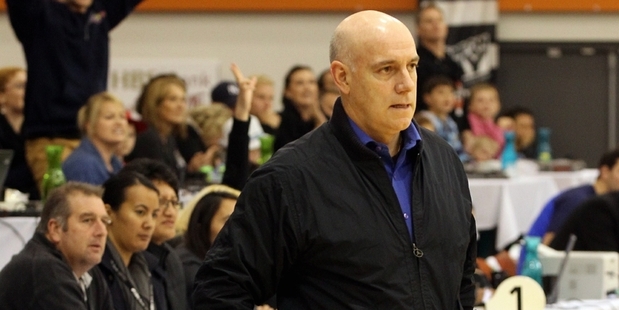 The Hawks are facing the prospect of tipping off their season in April without a naming rights sponsor, leaving the Hawke's Bay basketball franchise frantically seeking a replacement.
HBS Bank has decided not to renew its three-year contract.
"The story is obviously that it's difficult to face but it's not a crisis," Hawks coach Tab Baldwin said last night as he prepares for his second stint at the helm of a side that underachieved last season in the Bartercard National Basketball League (NBL).
"To be honest, it was the end of their expiry date so everything stops and the decisions are made so this is where we're at," the former Tall Blacks coach said after the Hawks finished in seventh place in the nine-team NBL last year with five wins from 11 games.
"That's what the organisation have said to me so I'm confident they'll do the job."
Hawks general manager Tanya Dearns said the potential loss in revenue was between $50,000 and $80,000.
Dearns said there was no risk of the Hawks not competing in the NBL but the loss of a naming rights sponsor would put considerable pressure on the organisation.
"We have appreciated the support by HBS Bank locally but the decision was made by its national office.
"We're at a crucial stage in the lead up to the season, signing new players and re-signing existing players, along with the production of playing and training uniforms, so we need to find another company to step up pretty quickly," she said, adding HBS Bank would remain a lower-tier sponsor.
The interest from potentially new sponsors, Dearns said, was good below the naming rights level.
Baldwin, who last year replaced Bay-born Paul Henare after he switched allegiances to the Southland Sharks following a changing of guards in the franchise ownership, lauded HBS Bank as a great sponsor.
The franchise, he said, had lost money but the bank brought a spin-off of quality and flavour that reflected the Bay community's spirit.
"It's a blow that an organisation like that is not behind us [as naming rights sponsor] but we also have to be grateful that they've been with us ... and will still be with us in a lesser capacity."
Baldwin, who has bagged five NBL titles with the now defunct Auckland Stars, hastened to add HBS Bank had chosen to support the Hawke's Bay Magpies rugby team in their ITM Cup provincial campaign this winter.
"Rugby is awfully tough for us or anyone to compete with in this country.
"Rugby here had a great year," he said, after coaches Craig Philpott and Danny Lee spearheaded the provincial rugby team to winning the Ranfurly Shield last winter in Dunedin, breaking a 43-year drought with a 20-19 win over Otago before losing it to Counties-Manukau in their first defence six days later.
The Magpies, who had a forgettable season in 2012, also made the second-tier Championship playoffs last year but lost away to the Tasman Makos in the final to forfeit the right to promotion to the Premiership in the coming season.
"I'm a kind of guy who sees the glass as half full," Baldwin said.
The Hawks, he feels, have historically had a great presence in the Bay where the community also has a propensity to rise at times of adversity. He expects they will once more deliver.
"The Hawks have great community support and it's no different now."
The players have been active in promoting the code in schools and also helping youngsters work towards acquiring life skills when older so that makes the basketball franchise a valuable commodity.
Former netball international Dearns, he felt, would be equally effective after assuming the mantle of general manager in her maiden stint with the franchise.
"Some companies will be able to help us pick up the slack but we definitely need a naming rights sponsor so I'm confident someone will step up."
No doubt, Baldwin said, the timing of the naming rights sponsorship could have been better.
The Hawks are in the process of signing players and are close to fulfilling their "local" (NZ) quota and have signed Napier-based American Kareem Johnson as their first import after a gamble to bank on his citizenship backfired last season.
Some players have left the Hawks nest, such as youngster Alonzo Burton to the Manawatu Jets and Dion Prewster to his hometown franchise of Wellington Saints after one season.
American import Brian Greene, who deservedly collected a lion's share of silverware last season, was surplus to requirements Baldwin said last month because they had signed Johnson who would need a big rig to back him up.
Greece-based import Darko Cohadarevic, of Serbia, has been rightly deemed "too soft" as Baldwin continues his search for a proper fit to ensure they don't make recruitment "mistakes" again.