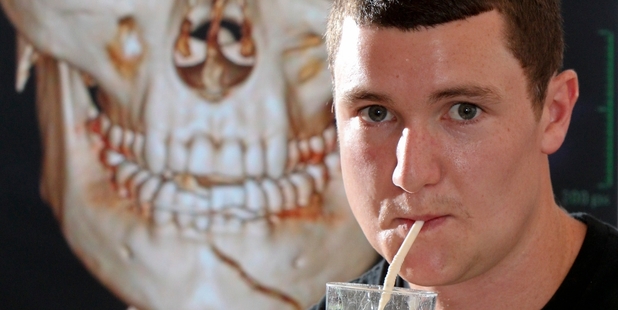 He could kill for a chicken curry right now but it will have to be fruit smoothies and protein shakes for Fergus Neil for a frustratingly unknown time.
"I'm eating through straws and I'm getting quite fed up of it already," the 21-year-old Kinetic Electrical Hawke's Bay United soccer player lamented last night after a doctor diagnosed a broken jaw.
Neil came off second best in Bay United's first game of the season in Napier on Saturday, in their 3-2 victory over rebranded Southern United from Otago, when Tom McCormack went in for a tackle in the 71st minute.
What is frustrating the versatile Bay defender is not knowing how long he will be out of action after his mother Helen rushed him to A&E at Hawke's Bay Hospital in Hastings, with father Jim following them in his car as the parents were among spectators watching the game.
"I'm keen to get back on as soon as possible," the Bluewater Napier City Rovers player said, adding the injury had not left him daunted.
Neil does not recollect what transpired between him and McCormack on the park that afternoon but he had no doubts he had a broken jaw when he got up from the ground.
"I was a bit dizzy when I was lying on the ground but I was okay once I got to my feet, although I didn't lose consciousness in that time.
"I could feel the split right in the middle of the bottom of my jaw and knew something wasn't right. It was quite painful," said the former midfielder, whose worst injury before that was a torn media ligament in his right knee in 2008.
An x-ray at the hospital confirmed his worst fears. The doctor wired his bottom two teeth to ensure the fractured jaw, with a hairline break riding up to the right side of his jaw line, did not aggravate the break before they perform surgery, either today or tomorrow.
Neil emphasised that as far as he was concerned there was no malicious intent from McCormack "but he was probably just a little reckless".
"It was quite nice of him to send me a text to say all the best for a quick recovery," he said of McCormack.
Bay United coach Chris Greatholder saw footage of the incident on video analysis on Sunday night and Neil said he wouldn't mind watching it too.
"It's a horror. It was a horrible challenge," Greatholder said.
"He kneed him square on the jaw.
"I saw it again last night and it made me wince as he went down like sack of potatoes."
He does not envisage getting Neil back in a hurry, reconciling it by making allowances for perhaps a return after Christmas but fearing it could put him out for the rest of the season.
A speedy and skilful midfielder, who was considered too small in a national squad in Auckland for an age-group World Cup several years ago, Neil returned home but embraced a good attitude to remodel his game as a defender, despite his small frame.
"I saw on Twitter someone said he's just a little guy but he has a big heart," Greatholder said. "He's just a Trojan. It's a shame because he's getting better each week."
Neil has had the licence to roam down the flanks - having played on the right and the left on Saturday - and took three shots at goal in the come-from-behind victory over the Southerners.
"It's probably a little far-fetched to say this, but I'm going to say it anyway. Fergus is better than the All Whites defenders of Leo Bertos and Tony Lochhead.
"I know who I want to have lining up in the back in my team, so his loss is going to be a big blow for us," Greatholder said, of the view while Neil can play on either flank, he has the edge on the right.
Perched third on the ASB Premiership table, albeit in the early stage of the competition, Bay United face WaiBOP away at John Kerkhof Park in a 5pm kick off this Saturday in round three.
Auckland City, Waitakere United and rebranded WaiBOP United are also on three points, but the first two have a better goal differential.
Bay United were supposed to play newcomers Wanderers SC in the opening round but that game has been postponed to Waitangi Day in February next year, because New Zealand Football wanted to give the young age-group national representative players a rest after their recent World Cup campaign.
The Wanderers drew 2-2 with Canterbury United at the weekend for their first point of the summer national league season.
In other matches, Auckland City beat WaiBOP 3-1 while Waitakere United beat Team Wellington 2-0.
Greatholder said that, with the transfer window shut until january next year, Bay United were not contemplating finding a replacement for Neil until then.
Last Saturday, he pulled off Danny Wilson from the leftback position to inject converted midfielder Harley Rodeka in the rightback and move Neil to the left.
The coach sees Rodeka and Ross Haviland as the contenders for Neil's rightback position this Saturday.
"I've been working with Harley in that position during the preseason and he has been going quite well there."
Greatholder wants his troops to play a possession-based game but also with some penetration, as opposed to simply playing possession for the sake of it.