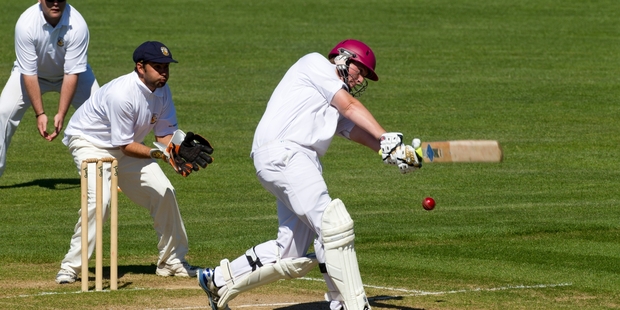 One wicket in hand, four runs to get, one over to go and one cricket team was going to be left crying in their beers.
The bitter aftertaste went to Heretaunga Building Society Cornwall Cricket Club after Complete Flooring Napier Technical Old Boys pipped them by a wicket in the first round of the limited-overs cricket competition on Sunday.
Exciting and great for the code - that's a given, if you ask John Jowsey - but regrettably there's a sense of deja vu about it for the Cornwall cricketers.
"It went down to the last wicket and we lost again," lamented Jowsey after they had lost in similar circumstances to NTOB in the modified English-style 55-over competition earlier in the season.
The premier men played the Pay Excellence 50-over matches on Sunday because the Property Brokers Hawke's Bay senior men's representative side were competing in Masterton at the weekend in the opening round of the zone 2 Hawke Cup elimination match against Wairarapa.
The prem games, whenever the Bay play, will be reduced to 45-over ones to enable some teams to cherry pick players from their senior sides to make up numbers.
"It was an exciting game to be a part of and our young guys, Jake Harvey and Jerome Groot, did well," he said after they scored 59 runs and 58, respectively, with the latter also bowling the last over.
Over to NTOB team manager Dave Caldwell to capture that excitement at Nelson Park, Napier.
"We needed two runs and Jerome bowled three dot balls first up," Caldwell explained, adding Tech hero Jayden Lennox, unbeaten on 93 runs, facing while a nervous Tom Lindsay, 16, on the non-batting end watching nervously on four runs.
Agonisingly, leftie Lennox had a go on the fourth ball but Cornwall fielder Charlie Crasborn grassed it at mid off.
Lennox didn't make that mistake in the next ball, much to the delight of the victors.
Caldwell confirmed Jowsey's claims that Cornwall had gifted Lennox two more lives in his brave innings.
"They dropped him twice and Jarrod Smith [wicketkeeper] missed a stumping," he said, adding he wasn't "sure about the modified games on Sunday".
Caldwell praised Napier Boys' High School No 4 batsman for keeping them in the game to eclipse Cornwall's target of 191-9.
The senior cricketer had taken a pasting from the batsmen at the death overs to finish with the figures of none for 48 from five overs but Caldwell said that's what development at the prem level was all about for the youngsters.
Said Jowsey: "They'll all learn from that to become better."
Caldwell said the defeat had left Cornwall coach Mike Shrimpton grizzling.
"Shrimpo played all his cricket with Tech when I was playing, too," he said of the former New Zealand international and CD batsman whose records Mathew Sinclair eclipsed over the years.
Josh Paerau vowed never to touch the ball again after he was dismissed for "handled ball".
"The ball came off his pad and it popped straight up and was dropping on to the stumps and he tapped it away so we have no complaints," Caldwell said of a form of dismissal that is rare.
In the other game at Nelson Park, Sharpies Golfing Range Taradale CC walloped Craft and Hern Havelock North CC by 115 runs.
Taf Mpofu (Chiweshe Tafadzwe) opened the batting with 36 runs to provide the platform for top scorer Callum Hewetson (54 runs) before helping three-wicket takers Baden Wilton and S Phillips with two of his own.
For the villagers only opener Ben fair and Stu McVeigh offered any resistance.
At Forest Gate Domain, Ongaonga, Ruahine Motors Ford Central Hawke's Bay put aside their 33 all out total from the previous round to beat The Station Napier Old Boys' Marist by 42 runs.
Captain Scott Schaw said 55-over champions CHB were hoping Cornwall would beat Tech, who skittled them for 33.
Schaw, who scored 61 runs, praised John Dickson for a quickfire 58 runs off 33 balls while Will Chapples added 56.