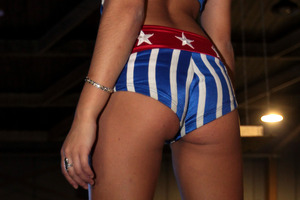 I HAVE received an email from Rozaliya Nepomnyash'iha, checking out my whereabouts.
"It's been a while, where have you been?" she asks.
"I stumble upon my past email correspondent with you darling. I just miss the happy moments and jokes that we had shared before."
It's a valid question although it's from someone I've never heard of in my life until the email somehow bypassed the spam mail security and filtering system at work that would normally have deposited such stuff into the "junk" basket.
The closest I came to anyone with a Slavic name recently is Auckland-based Russian Katya Nosova, articulately interpreting for Belarusian heavyweight professional boxer Alexander Ustinov fighting David Tua on Thursday in Hamilton but who is also in the hunt for "a good Kiwi gal" to be his bride.
The other was Anna Gurevich, a Russian-born German gymnast from Napier who competed at the gym sport nationals here last month, sharing her colourful ballet experiences.
So nice try Rozaliya but I'll tell you where I've been regardless.
When not pounding the pavement three to four times a week, I'm chasing newspaper stories in the sporting arena.
But, hey Rozaliya, it sure is the silly season - that is, those who are silly enough to buy into meaningless games and competitions.
That's one place I've been trying hard to avoid, never mind what Sky TV says about one's happy place.
Let's start with the All Blacks v Japan in Tokyo.
No matter how patriotic a follower, what could anyone possibly derive from such a mismatch even though the All Blacks shooed in a few second stringers and old jokers returning from sabbatical.
The upshot is that all they succeeded in doing was accentuate the gulf between the countries to sports fans.
Well, there's money to be made on the Japan circuit but how does rugby globally benefit from it?
Then there's the Silver Ferns v Malawi netball series.
Really, what's the point in watching those. The half-full Pettigrew-Green Arena in Napier was a testimony to that because even an ANZ Transtasman game draws a capacity crowd here.
Okay, Malawi will gain significantly in experience but the Silver Ferns' pool in the world championship suggests they'll sleepwalk their way into the playoffs with Australia, end of story.
Basically Malawi are "lovely players" in a sport that champions roller-derby types, bashing each other aerially for prime-time TV slots.
What can we make of the Black Sticks men and women playing in the Oceania hockey tournament in Taranaki a fortnight ago?
In fact, the Black Sticks men and women and their Kookaburra counterparts should be charged with battery and assault for flogging Pacific Island nation teams by yawning score lines of anywhere from 16-0 to 34-0.
Why not simply cut to the chase to play against each other to determine who has the right to proceed to the World Cup final.
The other puerile competition right now is the rugby league World Cup.
You have the "whatevers" playing against the "who cares" when it's painfully obvious the Kangaroos and defending champions Kiwis should get it on.
Okay, maybe England have an outside chance to cause an upset but, it seems, not this year.
What makes it inane is the revelation the United States team, an umpteenth-hour call up, have a squad debatably representative of a country.
Wales coach Lester Harris, after the US Tomahawks beat his Dragons 24-16, complained not a single American was in the entire squad.
As it turns out the American squad of 24, including four NRL players, reportedly have 10 US nationals but none of them is aligned to the country's rugby league parent body.
But let's not lose Harris' point in the red herrings of who belongs to which sporting body.
Ironically, Australia were playing Fiji last week with two Fijians in their line up - wing Michael Jennings and fullback Jarryd Hayne.
It was revealed Hayne was called into the Kangaroos squad almost as an afterthought, prompting him to wax lyrical about what a great culture the Fiji team offers.
Like netball, it's painfully obvious there is Australia and New Zealand and then the rest of the world.
Teams such as Samoa, Tonga and Fiji have potential to become top-tier nations but that'll only happen when the Kiwis and Kangaroos, predominantly, stop pilfering their talent.
If there's a common thread running through - especially netball, hockey and rugby league - it is for the need to acknowledge they don't really command the right to call any of their tournaments a "world" event. You can only have a world cup/championship event when there's parity in competitiveness among countries from at least 50 per cent of the hopefuls.
Disparity only creates spectator apathy and, in the long run, causes more harm than good.
Dragging in 25 countries by merely extending them invitations shouldn't be the ticket to staging a "world" event.
Codes shouldn't feel inferior because they are hosting a quadrangular or bi-nation competition.
Fewer teams of quality equal a stronger projection of a code, from not only the perspective of viewership but also development.
I haven't had the urge to watch an entire netball, hockey or league match recently. The odd league game has created more scepticism than belief the gulf between the favourites and underdogs is closing.
Even lingerie football in the American NFL is offering more parity by eclipsing even beach volleyballers for TV time.
The chances are one is more likely to find traction with the Rozaliyas of this world in a bid to find a happy place.