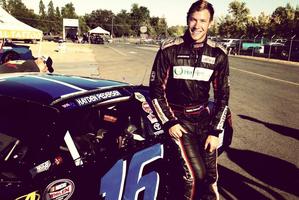 Remember Hayden Pedersen?
He was the Hawke's Bay Karting Club member who four years ago listed racing Nascars in the United States as his long-term goal. Now 19, Pedersen can reflect on his first taste of Nascar and look ahead to returning to Roseville, California for his second taste in January.
One of the few Kiwis to have raced in the 24-car, 18-meeting All-American Whealen Late Model Series as a member of the BMR Racing team, Pedersen finished fourth.
"I should have won it but I had five DNFs towards the end of the series," Pedersen explained.
"As you know it's something I always wanted to do since I was young. Hopefully I can progress from where I left off when I return in January," the driver of a 350 small block Chev motor-powered Toyota V8 said.
"I'm still considering team offers at the moment but the plan is to compete in one of the bigger series next year. In five years I hope to be in the Nationwide Series which is the second highest series in the States ... I've got an eight- year plan and this is all part of it."
With not a lot of prizemoney in his series, Pedersen works as a mechanic when in the States "to put food on the table and cover some costs".
When home in Napier he works as a fencer for Hawke's Bay Fencing.
"The physical labour keeps me fit for racing," Pedersen explained.
"A lot of people tell me I'm living a dream life but it's a lot harder than it seems. It was tough leaving the family to go to the States as an 18-year-old but I certainly don't have any regrets."
Although all of his racing in the States is done on tarseal, he intends to do some dirt racing before returning to the States.
"I've been offered three meetings in a midget up at Western Springs in Auckland, two in December and one in January. It's all paid for so I couldn't really say no," Pedersen said.
A two-time national champion during his karting days, Pedersen also raced in the New Zealand Formula First Championship and in the New Zealand V8 Touring Car Championship before heading to the United States.
There's no doubt Pedersen is benefiting from the commitment he displayed to motorsport during his karting days. Despite living in Rotorua and attending Western Heights School, he was a member of the Hawke's Bay, Te Puke, Hamilton and Rotorua karting clubs.
He owed a lot to his parents Mark and Sharon back in those days and even more now.
"Mum and Dad couldn't come over to the States and watch me last year because they were too busy working to contribute to some of my costs. Hopefully they will get over next year," Pedersen said.
Pedersen's first taste of motorsport was as a motocross rider. However, four concussions within 18 months and two broken shoulders within a year forced the switch to four wheels.
It's a switch he hasn't regretted and no doubt one he will savour more should he improve on that fourth placing in next year's series and achieve his latest long-term goal of a berth in the Nationwide Series.
One thing one can take for granted when it comes to Pedersen is he has a habit of ticking off long-term goals.