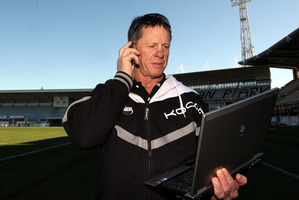 Relief enveloped the face of Hawke's Bay Magpies rugby team manager Neil Weber yesterday.
Within seconds his flustered travel agent look had been replaced by his regular confident sports team boss appearance.
After two days of uncertainty surrounding the Magpies' travel and accommodation arrangements for Sunday's ITM Cup Championship semifinal against the Otago Razorbacks in Dunedin, Weber was presented with an itinerary he could give the thumbs up to.
The uncertainty was caused by Saturday night's dead rubber Bledisloe Cup test between the All Blacks and Wallabies at Dunedin's Forsyth Barr Stadium.
The test has attracted a sellout crowd of 29,000 which initially meant there was no accommodation available in Dunedin on Saturday night for the Magpies' travelling party of 30.
Initially, there were fears the Magpies would have to undertake a flight or bus ride on game day.
Under normal circumstances, the New Zealand Rugby Union doesn't allow teams to fly on game day but 29,000 fans in one city on test weekend isn't normal circumstances.
However, Weber was thrilled to report yesterday there had been a corporate cancellation of accommodation for the test and he had secured enough beds in Dunedin for the team on Saturday night. The Magpies will fly in two groups from Napier to Auckland and then from Auckland to Christchurch on Saturday.
"Once we are all assembled in Christchurch, we will undertake a four-hour bus ride to Dunedin," Weber said.
This means the Magpies will be able to watch the test on television at their Dunedin hotel before having all of Sunday to prepare for the game as they would under normal circumstances. After the semifinal, the Magpies will bus to Christchurch where they will stay the night.
"Initially, we weren't too keen on any bus trips but this one is a small concession in the wake of what we secured for Saturday night," Weber said.
On Monday morning, the Magpies will fly from Christchurch to Auckland and then to Napier. Weber is expecting the team to arrive at Hawke's Bay Airport by midday.
"These arrangements should set us up well for the Friday night final. We have to plan as if we will be in the final."
Should the Magpies beat Otago on Sunday, they will take on the winner of the other semifinal between Tasman and Southland in the final. Should Tasman win, the final will be in Nelson but, if the Stags upset the Makos, the Magpies will host the final at Napier's McLean Park.
While the opportunity to play for promotion back to the Premiership is a huge incentive for the Magpies, who were relegated last year, they also have other incentives to produce a second win at Forsyth Barr Stadium this season (their first was the September 1 20-19 Ranfurly Shield win against the Razorbacks).
It's Magpies lock Michael Allardice's 22nd birthday on Saturday.
Also, a winning final would provide more appropriate send-offs for the likes of captain Mike Coman and veteran loosie Karl Lowe, winger Telusa Veainu and prop Max Lahiff who will all be playing overseas next year.