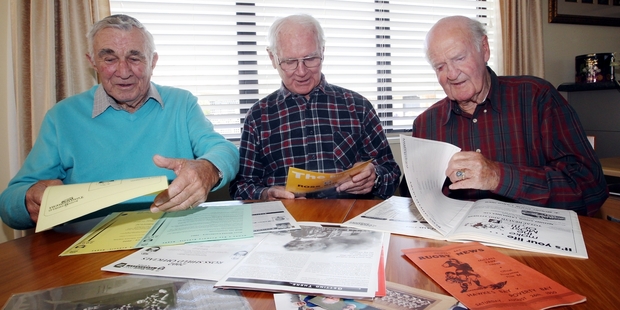 There's a challenge for a certain trio in Napier's winning Ross Shield rugby team.
Back in 1943, Leo Cash, Eric Sutcliffe and Vic Welch played first five-eighth, second five-eighth and centre respectively in the Hastings Ross Shield team, which won their Hastings-hosted tournament with five wins from as many games, scoring 145 points while conceding none. At the time, it was a record and it still remains as one of the best performances in the 112-year history of the tournament.
What added to the significance of this trio's feat was the fact they played in the same positions 10 years later for the Hastings' High School Old Boys premier team which won the Maddison Trophy. This year's Napier team's 10, 12, and 13, Kurtis Weeks, Leo Thompson and Kegan Christian-Goss, all played for the Napier Old Boys' Marist 12th grade team.
It will be interesting if they all end up in their club's premier team in 2023 and taste Maddison Trophy glory like Cash, Sutcliffe and Welch did 60 years ago.
When these 80-plus-year-olds (Cash is 85 and Sutcliffe and Welch 84) got together on Monday to celebrate their team's 70th anniversary with a chat and couple of frames of snooker, it was the first time the trio had been together since 2003 when they attended the Waipukurau-hosted tournament.
Just as was the case 10 years ago, there was plenty of reminiscing.
Cash, who played in three Ross Shield tournaments, pointed out there were no caps in 1943 ... times were tough because of the war. Welch recalled how captain Sutcliffe held the ball steady for Cash when he was attempting kicks at goal.
Sutcliffe reflected on their open-air showers which were surrounded by two-metre fencing at the old Nelson Park in Hastings.
"There was a chip heater in a building nearby where somebody would keep the fire going to heat the water for the showers."
Taupo played in the tournament for the first time in 1943.
"I remember the Taupo game. We were 30 points ahead at half-time and our coaches told us to ease up on them because the tournament officials wanted them to return the following year," Cash said.
Their coaches were Wattie Blakie, who taught at Mahora School which Sutcliffe and Cash attended, and Thomas Jackson, who was the headmaster at the Hastings West School which Welch attended and is now known as Raureka School.
Welch and Cash have known each other since they were 4-year-olds when they attended the Stortford Lodge Sunday School. They rattled off a few of their school slogans.
"We used to say Mahora the Borer and Hastings West is the Best," Welch said.
Despite newspaper reports at the time branding their Hastings team as a side full of potential All Blacks, none of the team went on to gain All Black selection. Only two, Sutcliffe, and Cash, were selected for the Hawke's Bay Magpies and Cash only as a reserve who never took the field.
Sutcliffe earned his blazer for 12 games and went on a South Island tour in 1952.
"I remember getting two and six for smoko and six shillings to spend on dinner," he recalled.
Sutcliffe billeted Dave Alderson from Dannevirke and Cash billeted Herbert Wong from Wairoa, who he still keeps in touch with 70 years later.
"I was from a family of five and we couldn't afford to billet anybody in those tough times," Welch explained.
The trio are still keen followers of rugby.
"I lose track of whether it's a maul or ruck and, these days, a referee can win the game for you," Sutcliffe said.
"It's all for television nowadays but I still enjoy it," Cash said.
Despite their advancing years, the trio are still reasonably active. Sutcliffe played golf for 47 years after his rugby days and got down to a four handicap. Welch also played golf down to a nine handicap and he and Cash get together at least once a week for a game of snooker.
All three are predicting a Magpies win in Sunday's ITM Cup Championship semifinal against Otago in Dunedin.
The trio know there may not be too many of their 1943 teammates still alive (one of their frontrowers, Peter Vesty, died at the weekend) but they are keen to organise as many of them as possible for a trip to Wairoa for next year's Ross Shield tournament.
"If we're fit enough that would be a good idea," Sutcliffe added before the snooker table became their major focus.
Other members of the 1943 Hastings Ross Shield team keen to catch up with this trio can contact Vic Welch on 8452468.