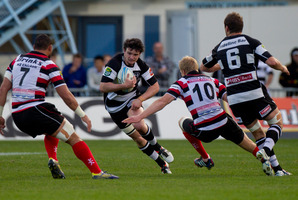 ITM Cup rugby
McLean Park, Napier
Golf talk within the Hawke's Bay Magpies rugby team has got centre Richard Buckman fired up.
Buckman has heard manager Neil Weber stake a claim to the title of the No1 golfer in the side.
He has also heard flanker Brendon O'Connor, lock Mark Abbott and "the Doc'' Ian Taylor are more than handy when it comes to taming the fairways and greens of several of the Bay's courses.
"Now we've got a couple of Sunday games in a row we'll get a few days off during the week so I will be able to get out for a hit with a few of them and see how I compare,'' Buckman, a 15-handicapper, said.
However Buckman and his Magpies teammates have a more immediate priority ... to return to the winning path when they host Northland in a sixth-round ITM
Cup clash at Napier's McLean Park tomorrow. While Buckman, 24, has been enjoying his best season in Magpies colours he said the last two losses, Wednesday night's
23-10 against Taranaki and last weekend's 27-24 Ranfurly Shield loss to Counties-Manukau, had been disappointing.
"After missing last season with injury it's good to be out on the field with the boys again. It's a team game and after those disappointing losses it's important we get back on the horse again,''
Buckman said. "Hopefully the conditions are better than the wet and windy ones we had on Wednesday night, the backs get a bit more ball and we can give it to the boys with the pace out wide.''
It isn't just golf talk that has brought the best out of Buckman. It's also the fact the former Hurricane and North Island representative is playing for a Super Rugby contract.
"I haven't heard anything yet. The next couple of weeks will tell. Obviously the Hurricanes will be good because they are the home franchise and one of the better
choices but any franchise where I can get some game time would be good,'' Buckman said.
A Napier Boys' High School product and former Hawke's Bay Ross Shield player of the
tournament, Buckman, has plenty of respect for Northland's midfield combination of second five-eighth Derek Carpenter and centre Rene Ranger.
"Ranger is a big threat. But I've got the chance to play against one of the best in the world and if I do well that has to boost my chances of a Super contract,'' Buckman
said.
He is happy with the progress former loosie Adam Bradey is making in the second five-eighth role.
"Adam has adapted well ... he just needs more time in the saddle.''
Should Buckman struggle in his upcoming golf matches against more fancied opponents there's one title in the Magpies side he will have a good chance of scoring ... the player with the most travelled parents. Buckman's Otorohanga-based parents Alan and Tracey, as has been the case for most of his first class career, haven't missed a
Magpies game this season and will be among the spectators again tomorrow.
"It's pretty good to have them there,'' Buckman said before the Magpies' training session yesterday.
Northland won't be easy opposition for the Magpies. As Buckman said, former All Black
Ranger and Carpenter are a formidable midfield combination.
The Taniwha loose forward combination of No8 Jake Paringatai and flankers Jack Ram
and Dan Pryor is more than handy.
Man for man elsewhere the Magpies boast the bigger names.
But the beauty of this competition is the fact the teams with the bigger names don't
always win and the Northland outfit have made no secret of the fact they are travelling south with the intention of returning home with a victory.
Hawke's Bay will definitely have more experience and players with better
reputations coming off the bench. Northland's assistant coach and
former Magpies captain, George Konia, pointed out this week that all the Taniwha
players had played in Northland's club competition this season.