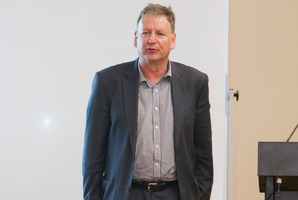 In case anyone was in doubt, Wednesday's tractor parade protest by Heretaunga Plains growers proved how badly things are askew with Hawke's Bay Regional Council and why there needs to be wholesale change.
It's not just that growers were left waterless during last year's drought, or that they got short shrift from sitting councillors as to their plight, but that it took the council until August this year to commission a report into their predicament.
Almost a year since the last drought started, and mayhap just a season before the next, and council is only now looking to get a handle on the problem?
Which shows, in a nutshell, that HBRC has it backwards.
Why? Because they've asked the wrong question.
In the face of climate change modelling that foretells the region getting drier, with "50-year" droughts becoming once a decade, the question the council should have asked is: What do we need to protect? Followed by, how best do we do that?
Instead, the first question they proceeded to mull over was: What can we develop to add to what we've got?
The answer they derived was the speculative Ruataniwha Water Storage project. Everything else - which already exists but will increasingly struggle to sustain itself - fell off the back of the limo.
Simply, the incumbents are collectively guilty of falling into the "more and bigger is better" trap so beloved of corporate capitalism yet so inappropriate for a regional body charged primarily with sustaining our environment.
So instead of looking to develop smaller localised (and locally controlled) water storage schemes on an "as built/most needed" basis, they plumped for one huge scheme in likely foreign control promoted on a promise - in effect speculating on land that may or may not be economic for development on a scale to match.
As much as CEO Andrew Newman manifests as ring-master in this corporate circus, the councillors should have known their primary elected duty was to sustain and enhance what we already have - and shown him the exit door, not the one to the public-private company.
Allowing the pipedream to obscure the reality leaves the mainstay of our economy, our growers and orchardists, under serious threat with no help in sight.
On this basis alone there isn't one incumbent worth saving. (except Liz Remmerswaal but she, tired of trying to beat sense into the rest, unfortunately isn't standing again.)
So, who best to replace them?
In Napier, Pauline Elliott would be a breath of fresh air, hopefully joined by environmental activist Paul Bailey and orchardist Allan Baldock, both men of integrity.
In Hastings, Tom Belford deserves recognition simply for knowing more (and working harder) than the councillors he'll replace; Rick Barker has a wealth of common sense and governance experience; and Rex Graham would put horticulture at the table.
All three are backed by the Growers Action Group.
Wairoa's choice is limited; the figurehead deserves his comeuppance, so justice may see Shaun Haraki overturn Fenton Wilson.
Similarly in CHB it's a straight run-off between the inconsistent Tim Gilbertson and challenger Debbie Hewitt. The opportunity to have a rural woman at the table may give her the edge.
The Ngaruroro ward offers the biggest challenge: Three excellent candidates up against a must-go incumbent.
My choice would be Chris Perley for his "green-ness" and land management experience, but Peter Beaven is running a strong GAG-backed campaign and Feds local ex-president Kevin Mitchell can't be discounted. I only hope they don't split the vote between them to allow Ewan McGregor back in.
Bottom line is, we need councillors who deliver the right answers - not ones who start with the wrong questions.
That's the right of it.
Bruce Bisset is a freelance writer and poet.