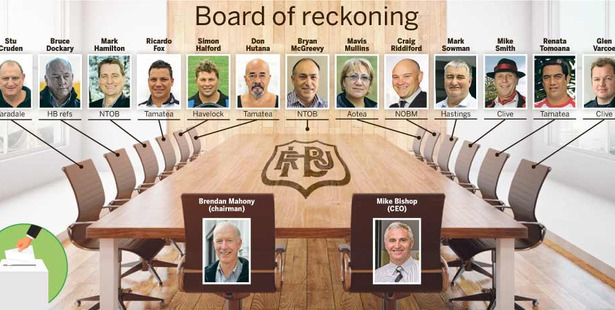 Dannevirke-based businesswoman Mavis Mullins has a two in 13 chance of becoming the first female elected to the Hawke's Bay Rugby Football Union's board of directors in the union's 113-year history.
Mullins is the sole female applicant among 13 for two elected director positions which will be contested at a special general meeting of the union in Napier on June 1. The highest polling candidate will be elected for the position which will retire by rotation at the 2020 annual meeting of the union and the second highest will retire by rotation at next year's annual meeting.
A shearing-industry legend, Mullins was awarded the Outstanding Maori Business Leaders Award at the Aotearoa Maori Business Leaders Awards in Auckland earlier this month and later this year she will be inducted into the New Zealand Business Hall of Fame. Aotea's Mullins has sat on numerous boards including Landcorp, 2degrees Mobile, health boards, Poutama Trust and Taratahi Agricultural Training.
Former Taranaki, Manawatu and Wairarapa Bush representative Stu Cruden is the only candidate nominated by the Taradale Rugby and Sports Club. He is the club captain and a three-time Maddison Trophy winner with the club's premier team, twice as a coach and once as a manager from four finals.
The father of All Black first five-eighth Aaron Cruden, Cruden, is a former plant manager of the Silver Fern Farms Takapau plant and last year returned to the Bay after a five-year stint in Australia where he was general manager of Northern Territory Beef, a subsidiary of the Australian Agricultural Company, and during this time he oversaw the building of two plants from scratch. He is now the beef manager for Progressive Meats.
The Napier Technical Old Boys club has nominated two applicants. One is Alexander Construction managing director Mark Hamilton and the other, Bryan McGreevy, runs a chartered accountancy business.
Former Napier City Council councillor Hamilton is a life member of the club and a former president. McGreevy is a former club treasurer and this season he is managing the Texans premier reserve grade side.
The Tamatea club has nominated three applicants, Ricardo Fox, Don Hutana and Renata Tomoana. Mayfair School principal Fox is a former Hawke's Bay Ross Shield team coach and has been a key figure in the Hawke's Bay Role Models in Education movement which has seen a rugby team containing teachers and principals from the Bay take on similar teams from other provinces in an attempt to increase the number of teachers and principals being role models for all in the community.
Well known for his kapa haka exploits and high fitness levels. Hutana, 72, played his last game of rugby as a 69-year-old in 2014 when he had 30 minutes for Tamatea's reserve grade team which was struggling for players because of seasonal work commitments.
A former club president, Hutana, has never been shy when it comes to requesting a fair deal for the province's marae-based clubs. Tomoana is the current club president and a son of Ngati Kahungunu Iwi chairman Ngahiwi Tomoana.
He has played at premier level and is aiming to play at third division level later this season. Tomoana runs the education department and tutor intensive numeracy and literacy for YMCA Hawke's Bay.
Another chartered accountant, Craig Riddiford, has been nominated by the Napier Old Boys Marist club. A Crownthorpe resident, Riddiford, is a director of Brown Webb Richardson and the NOBM club's director of finance. He is also a team manager at the club and part-time player.
Former Hawke's Bay Magpies, B team and Sevens manager Mark Sowman has been nominated by his Hastings Rugby and Sports Club. A club stalwart who has coached the club's premier reserve grade team in recent seasons, Sowman, works as a self-employed insurance adviser.
Former Magpie Simon Halford has been nominated by the Havelock North club. The orchardist is a former co-coach of the club's premier team and has coached Hawke's Bay age group teams in the past.
The Clive club has nominated two applicants, Mike Smith and Glen Varcoe. A financial director for Gemco, Smith, is the assistant manager of the club's premier team and is the Hawke's Bay Saracens team manger.
Former Magpie Varcoe is the assistant coach of the Clive premier team and has coached at Ross Shield level in recent years. He is a fireman.
These nominations were called for in the wake of the resignations of four directors, Kevin Atkinson, Dan Druzianic, Taine Randell and Simon Tremain, earlier this month. While union chairman Brendan Mahony and CEO Mike Bishop could not be contacted yesterday they have every right to be impressed with the number and quality of the applicants.
Bishop indicated on the press release announcing the applicants that nominees for the two vacant appointed director positions will be advised closer to the June 1 meeting.