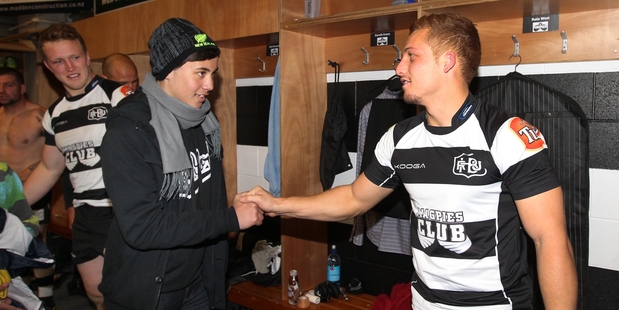 Azaleas Quenton, the 12-year-old victim of an unprovoked attack in Hastings this month, has been treated to a night with his rugby idols.
Mum Cherie Irving said when the family were given free tickets to the Hawke's Bay Magpies' ITM Cup game against Taranaki last Friday, it was an opportunity to take their minds off Azaleas' ordeal.
"He absolutely loved it," Ms Irving said of her son's experience at Napier's McLean Park.
"It was good for us all to relax after the chaos of the week. It was good to forget about it for a while, because it had been on our minds the whole week."
Azaleas watched his favourite player, Ihaia West, secure a 29-26 win to the Magpies with a late drop-goal.
After the game, he was taken into the changing rooms to meet his idols, shaking hands with Ihaia West and other players, who presented him with his own rugby jersey.
"They expected to meet a regular-sized 12-year-old," Ms Irving said.
Extremely tall for his age, Azaleas stood almost as high as some of the players.
At the game with his mum, grandmother, uncle and cousin, Azaleas also brought the school friend he regularly walks home from school. He had seen his friend, much smaller than himself, to his doorstep before Azaleas was attacked from behind by a group of older students in Akina Park, Hastings, this month.
It is alleged three girls and two boys of secondary school age, who have yet to be apprehended, were involved and Azaleas' face was kicked and stomped on repeatedly.