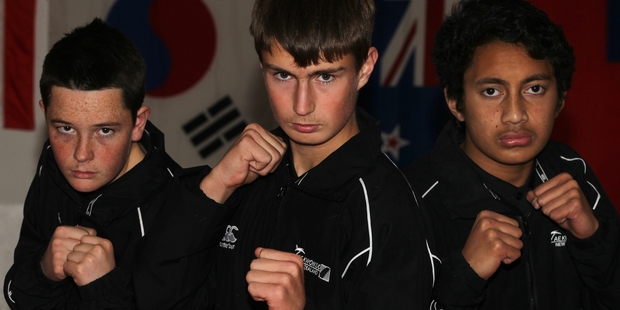 Jumping a class as a brainbox in primary school is all good but what Alex Ryder hadn't anticipated was the nerdy tag.
"I used to get bullied a lot," the former Parkvale School pupil reveals of the trying times as a 7-year-old.
All that changed for Ryder when his mother, Marie, ushered him to Heretaunga Taekwondo Gym in Hastings, thanks to her rapport with former cricketing teammate and third dan black-belt instructor Megan Clark.
"I found more confidence and just asked them [the bullies] to stop so it stopped shortly after that," says the now 14-year-old from Hastings who is in his eighth year of competing in the martial arts.
Ryder and fellow Hastings Boys' High School pair Tanielu Pio, 16, and Robby Pruckmuller, 13, are the first cadets going to compete in the Oceania Taekwondo Championship (August 13-14) and Australia Open Championship (August 16-17) in Sydney.
Pio and Pruckmuller belong to the Bay City Taekwondo Sejong in Hastings.
Bay City Master Camille Pruckmuller, Robby's mother, says the back-to-back champs are expected to lure 2000 competitors each although the latter one will mushroom because it's an Open event.
"The cadets is a new concept because you had to be over 16 before that," says Pruckmuller, adding clubs can only send one exponent in each category.
Pio, who competed at the Junior World Championship in Taiwan in March, is in the junior under-63kg grade.
Ryder is in the under-61kg one and Robby Pruckmuller in the under-53kg.
The trio had to be the last competitors standing at the qualifying nationals tourney in Auckland on May 3 after up to five bouts each to earn the right to represent their country for the first time.
She says the cadet concept is geared towards enticing youngsters to embrace taekwondo as their No 1 sport, rather than a code that is traditionally thrown in to fill a week of activities.
"Hopefully taekwondo will be in the 2018 Commonwealth Games at the Gold Coast," she says, relishing the thought of relatively cheaper travel from this side of the Tasman.
Ryder, a year 10 pupil, finds traction with the code and its all-round attributes.
"I love the discipline of how it keeps me well mannered," he says, engaging in full-contact bouts from the age of 7.
The softly spoken teenager lifted the stakes when he won his first age-group national title at the age of 9.
"I always had a dream to go to the Olympics.
"Going to the tournaments in Sydney is one of the stepping stones to fulfil my dream," he says, lauding Clark and Mardi Lambert for helping hone his skills.
"It'll be great to get that international experience."
Pruckmuller, a year 9 pupil, echoes Ryder's sentiments.
"Alex and I are really lucky because we can go to the Olympics with so much experience," he says, attributing the endorsement to Olympian Vaughan Scott, of Auckland.
Eyeing the 2020 Summer Olympics in Tokyo, Pruckmuller sees the Sydney trip next month as an opportune time to gauge themselves against the best from some of the other countries.
He is already seeking sponsors and thanks sparring partner, Mac Singthep, "a bigger boy", and Opal Te Aho, for helping boost his and Pio's fitness with crossfit.
The Bay City pair of Singthep and Te Aho are on the cusp of becoming black belts.
Because of his mother, Pruckmuller got into taekwondo at the age of 3.
"I started training in our garage at home and mum encouraged me to do it."
Like most youngsters, his interest waned a little with the monotony of training.
"When I didn't train mum made me do it.
"By 10 I started doing it without moaning about it."
Collecting bruises is inevitable but Pruckmuller says nothing an ice pack doesn't fix later.