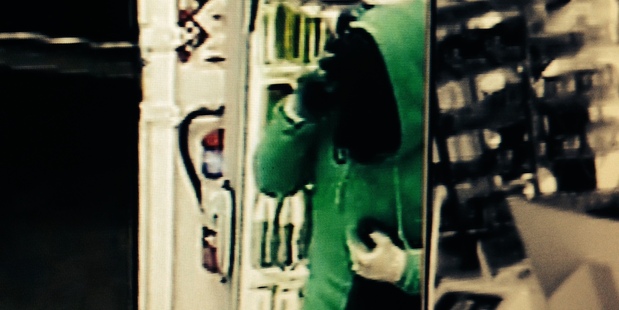 A masked and armed robber left a Hastings service station empty-handed after his demands were refused by the attendant.
Detective Sergeant Jason Crowe said the man entered the Mobil Windsor service station on the corner of Heretaunga St East and Madison St in the Hastings suburb of Parkvale at 8.30pm on Tuesday.
"A masked man has entered the store and armed with a knife, confronted the attendant and demanded money," he said.
"When his demands were refused the male left and ran down Heretaunga St toward Havelock North. The male had covered his face with a bandanna or similar and was wearing a distinctive green hoodie."
Mr Crowe said while nothing was taken "there was definitely a good attempt" with a long-bladed knife brandished at the lone attendant.
He said the offender was completely covered by clothing, including gloves, making age or race difficult to ascertain.
"Our victim wasn't able to provide any sort of detailed description about age or anything."
If anyone had seen someone matching that description in the Heretaunga St area on Tuesday evening, or had information, they could contact Mr Crowe on (06) 8310700 or phone Crimestoppers on 0800 555 111.
Mr Crowe said the attendant's actions were brave but advised victims of crimes such as this to comply.
"He was spoken to by the police that attended [the incident] and he's a pretty strong-willed sort of a character.
"I wouldn't condone such behaviour — it is certainly a brave thing he has done."
It is the second time in less than a week the tables have been turned on a would-be criminal.
On Saturday night, a man who attacked a forestry worker with a hammer during a home invasion in Mcvay St was overpowered by the 33-year-old, who used the hammer to defend himself.
A 23-year-old Napier man is in Hawke's Bay Hospital with head injuries after driving himself to City Medical on Wellesley Rd, from where he was transferred to hospital in Hastings.
A hospital spokesperson said the man was in a critical condition in the intensive care unit. Police investigations are continuing. The Mobil Windsor manager declined to comment on the failed armed robbery on Tuesday as did the owner.
The service station was the scene of another masked and armed robbery in November last year, when a man drew a knife and demanded the lone attendant fill a bag with money.
On that occasion the employee complied and the offender fled on foot. The November robbery was the third knifepoint raid over a five-day period in Napier and Hastings.