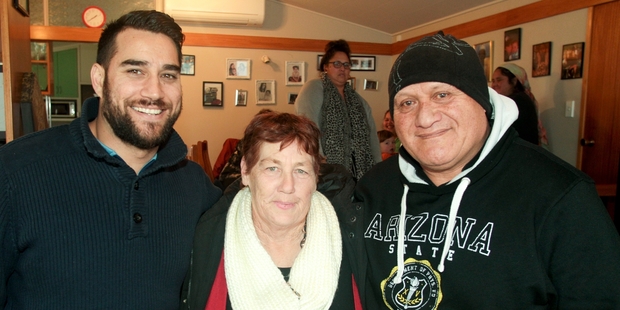 For internationally renowned baritone Phillip Rhodes, coming back home to Hawke's Bay - after two years away building what is now a sparkling opera career in Europe - means there is a bit of catching up to do.
People to see and places to visit.
But for now that just has to wait, because the discipline of the professional musician steps in.
"My main concern is the concert this Friday, so after that I will get out and about. Doing what I do, the socialising has to take a back seat," he said.
"The people in my life, they understand that."
The concert he is keeping his voice and body in shape for is U-Turn Italian Style, a fundraiser being staged at the Mission Estate Winery for the U-Turn Trust and Te Aranga Marae, which are close to the heart of the trust's ambassador, Hastings City councillor Henare O'Keefe and his wife Pam.
The 34-year-old is their foster son and he has forged a remarkable career, which he admits sometimes still surprises him.
"You wake up one morning and everyone wants to employ you," Mr Rhodes said.
He has toured the stages of Europe extensively and has appeared in concert several times with his mentor, Dame Kiri Te Kanawa.
But this concert for "mum and dad" is special and he is proud to be part of it.
He will be joined by another Hawke's Bay musical success story, mezzo-soprano Anna Pierard.
"If I can do anything to help I will, no question about it," he said of the fundraiser, which by late yesterday was close to being a sellout.
Mr O'Keefe was delighted it had all come together and paid tribute to work of organiser Gary Hemmings.
It had not been easy, as it had to fit in with Mr Rhodes' busy schedule.
Mr Hemmings said it was initially intended to stage the concert last year, as it was hoped Mr Rhodes could make it home for Mr O'Keefe's 60th birthday.
"But he couldn't come home at that time," Mr Hemmings said, adding he had raised the idea of a fundraising concert for the trust back then.
"It was a bit of a rush of blood to the head to say 'let's organise a concert' but I have had a bit to do with Henare through the years and I love what he is doing."
So while it was flagged away last year, Mr Rhodes had not forgotten and when he called to say "I'm coming home, can you organise this concert" it was all go again.
"I didn't think it would happen but it is and it's fantastic," Mr Hemmings said.
More than 100 tickets to the black tie dinner and concert had been sold and fewer than 20 remained.
Mr Hemmings said the strong and devoted community work of the trust and the marae would be perfectly illustrated when the opening act stepped forward to sing.
"Four young proteges from Flaxmere, Anna has been coaching them in singing."
Mr O'Keefe is naturally proud of his foster son. "He is just great. He is living the dream."
They went off to watch club rugby on Saturday and Mr O'Keefe said the heavy rain had not been a bother.
"He's used to it, where he comes from," he laughed.
And when it came to having the last say, dads usually always win.
Still weary after the long flight and not having time to shave off a "bit of a beard", Mr Rhodes was initially reluctant for a photo to be taken.
"No no, plenty of time, you'll be ready," Mr O'Keefe called to him.
For concert details and bookings, email Gary Hemmings at gary@commonsense.co.nz.