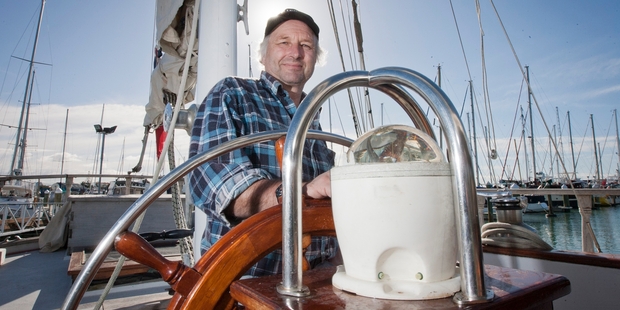 Hawke's Bay Coastguards have been given the thumbs up from a Picton sailor who became stranded off Napier on Wednesday.
Rick Ireland bought a 56ft ketch, called Kingston Rover, in Auckland and was sailing it back home, when he encountered a spot of trouble.
A near miss with a logging ship at Cape Turnaround, forced the yacht into reverse, but it was too much for a tired engine, which spluttered to a halt shortly afterwards.
"There was a big ship about four miles to the right, this thing approached ahead of us, with the ship on our other side I thought I would go around it, but it just kept coming, I lost sight of its lights ... when I found them it was right in front of us, so I shoved it into reverse - the motor was howling," Mr Ireland said.
"When we got past we wanted to keep going, but the motor started clattering and then there was a bang."
The crew erected its sails and turned back to Napier where they notified Hawke's Bay Coastguard of their presence.
"We had contacted them by radio, they wanted to know if we needed a tow in, but we were hooning along at about 7 knots, it was only when we ran out of wind we had to call back."
The volunteer team of Coastguards rushed to their aid at about 8.30pm on Wednesday, and inched into port, with the vessel in tow, about 2am.
Mr Ireland was full of praise for the group, who delivered his wet, tired crew to a motel for the evening, before returning home for a few winks themselves.
Kingston Rover's "deep draft" and a low tide meant it had to be berthed in Napier Port for a night, before another crew skippered by Hawke's Bay Coastguard duty officer Neil Daykin, moved it to a more permanent location the following day.
"Tow assists are the main thing we do - problems with engines or people who have run out of fuel - we do about half a dozen ocean yachts a year with engine failure," Mr Daykin said.
Mr Ireland, a single dad to sailing mad daughters Tammy, 8, and Annie, 6, planned to leave the ketch docked outside Napier Sailing Club and fly back home until he got word on when it could be fixed.
He bought the vessel as a do-up project for his girls.
"It won't be Kingston Rover for long, it's going to be Tamanny 11, after my daughters. Tamanny 1 is sitting in the front yard, but no one really likes that boat."