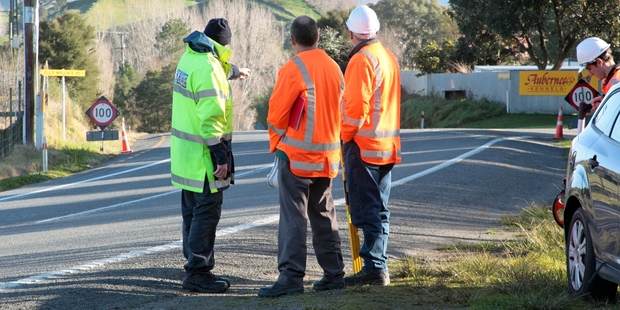 Engineers have been called in to examine a sweeping band on SH5 near Eskdale where a logging truck left the road - the second such accident in a week.
It was an incident which could have ended in disaster as logs were sent flying across both sides of the highway over a stretch of about 80m.
"The potential for a fatality was extremely high," Senior Constable Terry McMahon from the police commercial vehicle investigation unit said.
The crash happened about 7.30am on a sweeping right-band bend just past the turn-off to Ellis Wallace Rd.
Police were thankful traffic was light at the time.
The Napier-bound RB Mackersey Transport truck and trailer went out of control going into the corner which has a relatively steep off-camber stretch from the edge of the highway to the roadside.
While the trailer unit ended up being flipped from side to side, spilling its load, the driver, who was left shaken but uninjured, was able to keep the truck upright and brought it to a halt.
"He did a good job of it," Mr McMahon said.
He believed the camber 50m leading into the 75km/h sign-posted bend, was "an issue which needs to be looked at".
It was the second logging truck and trailer to leave the bend in a week and continued a concerning run of incidents.
"We have had a few go over here through the years," Mr McMahon said.
It appeared the trailer wheels had slid down the camber pulling the unit to the left and the driver fought for control as he tried to steer it out.
Speed was not believed to have been a factor," Mr McMahon said.
That was backed up by Kiwi Haulage's health and safety officer John McCartney who said the truck's GPS system showed the speed was within the limit.
Kiwi Haulage oversees the work of several North Island trucking companies, including the Taupo-based RB Mackersey Transport company.
While it was the first time one of their trucks had fallen foul of the bend, he agreed with Mr McMahon that "the corner has got some issues".
Mr McCartney said his initial take on the cause was it may have been the combination of a tyre blowing out on the trailer as well as the steep camber after it drifted over.
Mr McMahon said there had been a blow-out but believed it may have been caused by the trailer sliding down the camber.
A full investigation would be carried out.
The incident saw the highway reduced to one lane for more than an hour while the logs were cleared.
They were dragged to the sides of the highway and were later picked up by a self-loading truck and taken to their destination, Napier Port.
Opus engineers arrived at the site just after 9.15am to begin inspections of the stretch.