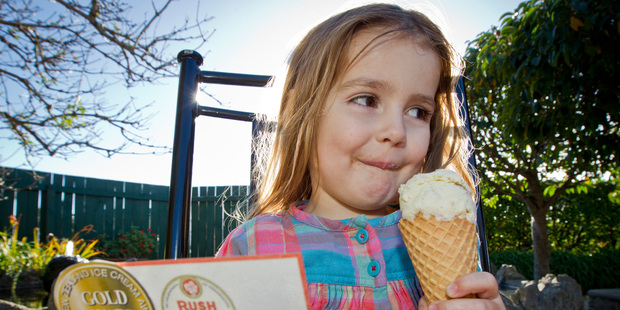 Hawke's Bay's Rush Munro's ice cream has been named as the best in the country, taking out a supreme award for its maple walnut flavour at the National Ice Cream Awards.
The 18th National Ice Cream Awards were held last Thursday where a team of lab-coat-wearing frozen-dairy experts declared Rush Munro's Maple Walnut ice cream as the best for a boutique manufacturer, while New Zealand Natural's English Toffee won the supreme award for large manufacturers.
Rush Munro's owner Simone Forde was thrilled to have won the award, the first ever supreme award for the premium dessert manufacturer.
"We've won gold medals before for this flavour, for several years, but this is the first time ever we have won a supreme award for any of our ice cream," she said.
"It's my favourite flavour, I absolutely love it.
"We've been making ice cream for a long time now and I think ours is so good because we use fresh ingredients, and we always use the best. We make our ice cream in small batches and I think that allows us to manage the quality. When you're not turning it out and you are making it with care it works, and I think this award shows that."
Rush Munro's began in 1926 when Englishman Frederick Charles Rush Munro arrived in Hawke's Bay. Having learned the skills of the confectionary trade from his father, he and his wife Catherine set up shop in central Hastings. The company also won silver awards in the Premium Ice Cream category for their passionfruit, banana and mochaccino flavours. In addition, a silver award was won in the Premium Vanilla Ice Cream category and also the Best of Chocolate category.
The awards are open to both the batch manufacturers, who supply supermarkets and dairies, and boutique makers.
There were strict guidelines on definitions of premium ice cream as well as the newer categories of low-fat, gelato and sorbet, mostly to do with the percentage of milk fat and total fat. Overall this year, the awards attracted 302 entries in 11 categories.
New Zealanders are among the biggest consumers of ice cream in the world and as a nation we eat some 23 litres of the frozen dessert a year each.