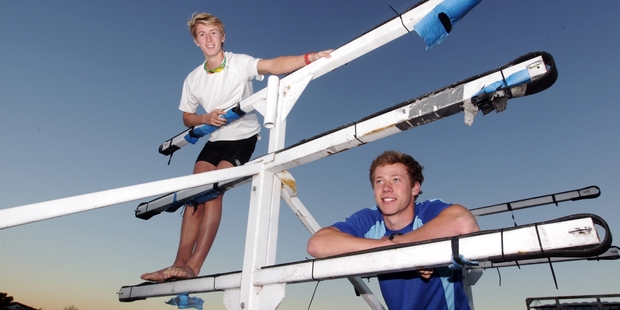 Well before Hawke's Bay rowers Tom Mackintosh and Ed Laver took up the sport they were in the same year at Hereworth School.
"There was no interaction between us. Tom played soccer and I played rugby," Laver recalled.
From June 8 until August 10, Lindisfarne College sports prefect Mackintosh and fellow year 13 17-year-old and Napier Boys' High School prefect Laver will get to interact virtually every minute they are awake. It's all part of their New Zealand under-19 coxed four crew's quest for a medal at the August 6-10 junior world championships in Hamburg, Germany.
The pair were selected in the crew alongside Christ College's Hugo Elworthy and Rangiora College's William Morris-Whyte after last month's Lake Karapiro trials, which saw 25 rowers battling for berths in the crew.
Their Hawke's Bay Rowing Club clubmate and former Woodford House student Hannah Bailey, who now attends Otago University, was also selected for the championships.
The selection of Laver and Mackintosh is another example of the pair achieving before their time.
"We're only in our third season of rowing. Other members of the crew are in their fourth or fifth season," stroke seat rower Laver said.
Bow seat rower Mackintosh will be competing at the world championships for the first time. Laver competed at last year's junior worlds in Lithuania as a reserve and he and fellow Kiwi Josh Little won the reserve pairs title by a convincing 23 seconds.
"This time it will be the real deal for me. Obviously the main goal is to make the A final but we would be disappointed if we didn't return home with a medal,"Laver said.
Like the rest of the New Zealand junior team, Mackintosh, Laver, Elworthy and Morris-Whyte will assemble and train at Rowing New Zealand's High Performance Centre at Lake Karapiro from June 8-28 before their departure to Europe. While there they will keep up with their academic commitments by attending St Peter's College in Cambridge.
For so many Kiwi rowers, selection for the junior world championships is often seen as the first major step towards Olympic Games selection.
"It's definitely a pathway but I won't be deciding on whether I pursue it until I get back from Hamburg. Our finish there will be a key factor in my decision," Laver said and Mackintosh nodded in approval.
Mackintosh, who is considering engineering courses at Canterbury or Waikato University next year, said their intense training schedules prevented them from looking too far beyond Hamburg.
The pair, coached by Mackintosh's father Jock Mackintosh and Don McDonald, train each morning and every second afternoon at Clive.
They were given a training programme to follow when they left the trial camp.
"Basically that's so we can hit the ground running when we return to Lake Karapiro next month," Mackintosh said.
If their times over 2km on the indoor rowing machine are an indication, their New Zealand crew coach Bruce Jones will be impressed. Laver stopped the clock at 6m11s and Mackintosh was 13s slower.
Before his selection for Hamburg, Mackintosh's rowing highlights were a national title with the Hawke's Bay men's club eight last year and a third placing in the under-17 single at the March Maadi Cup regatta in Twizel. Laver was in his school's Springbok Shield-winning under-18 four in Twizel, a silver medal-winning under-18 pair with Liam Kitchin and the bronze medal-winning eight.
Mackintosh said his selection was one of many sporting highlights for his school in recent weeks.
"Both Ed and I must also thank all the other boys who started in the novice ranks with us and continued on. We would not have been selected had they not decided to come up the grades with us."