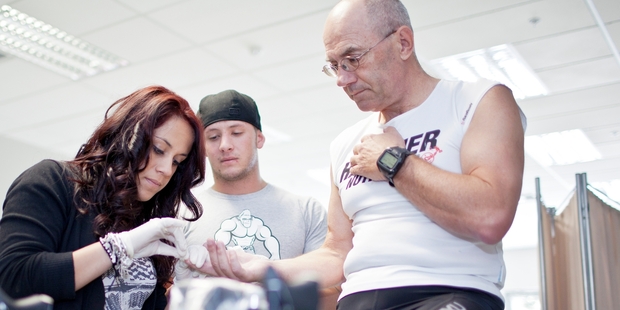 Graduating this week with a Bachelor of Recreation and Sport, EIT valedictorian Philip Shambrook is passionately committed to lifelong learning.
Formerly from Britain, Mr Shambrook and his wife, Louise, met as officers in the Royal Air Force, which put him through his engineering degree. He also gained an MBA from the Open University before the couple, leaving the services, travelled the world for three years on a tandem bicycle.
Their 38,000km trip took in the United States, New Zealand, Australia, South-east Asia, India, Syria, Turkey and Europe and earned them a place in the Guinness Book of Records.
This year Mr Shambrook is studying for EIT's newly-launched Master of Health Science programme.
"Never be afraid to start a new journey," he urges. "Get on a new bus and see where it goes."
Mr Shambrook said people's perceptions change when they achieve and when they do something for the first time they are surprised at what they can do.
So he doesn't drag his feet when a decision is needed.
"I may not always have made the right decisions, but I've never felt the need to go back," he says.
That includes the couple's move to Hawke's Bay seven years ago. Mr Shambrook was working in computing and laser imaging systems and the couple were living on the North Shore.
They had bought an acre in Waipukurau for retirement, but as city life got more stressful, juggling sports training, work and commuting, they decided to fast forward their plan to build on their block by nearly 15 years.
"We got fed up with Auckland and said let's see if Hawke's Bay is as nice as people say it is."
Three years ago, they moved to Havelock North and established a business and sports mentoring company. The active pair compete in triathlons but now do more off-road running. They began the Hawke's Bay Trail Running series in 2011.
"In Hawke's Bay, there were only the big running events, the Triple Peaks, Cape Kidnapper's and the Kaweka Challenge, but nothing at the bottom end to grow people. So we set something up."
They also relaunched the Kaweka Challenge as the Kaweka Mountain Marathon. Despite miserable weather, January's event attracted nearly 200 entrants from all over New Zealand and as far away as Alaska and Germany.
As a valedictorian, Mr Shambrook will represent fellow graduates in addressing family and friends attending the traditional capping ceremony being held at Napier's Municipal Theatre.
"I'm very honoured to be a valedictorian considering the calibre of the other students," he says.
Mr Shambrook acted as a mentor and tutor to many of his peers, organising numerous revision and group sessions.
"Where once with tertiary studies I'd achieve the pass mark plus one per cent, I gave the degree my undivided attention and got great grades. It's been an absolutely great experience," he says of studying at EIT.