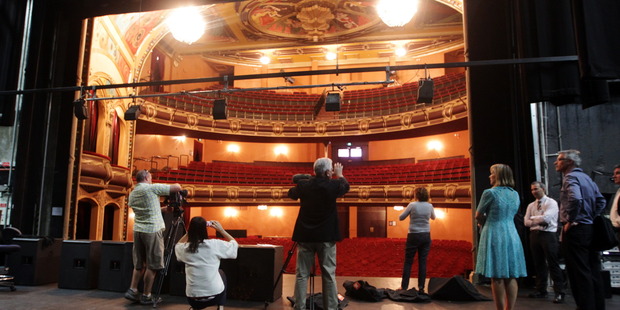 An expensive question-mark hangs over the future of Hawke's Bay Opera House's historic theatre building, as engineers continue to assess the extent of the council-owned facility's vulnerability to earthquakes.
Thousands of ticket holders had their event plans scuttled or thrown into confusion yesterday as the Hastings District Council announced the immediate closure of the 99-year-old theatre, after experts raised the alarm over the structural integrity of its two 12m-high side brick walls.
The theatre will remain closed for at least two months while more engineering work is done to determine the extent of the problem - and investigate possible solutions - but the council says surrounding businesses in the Opera House complex are not in danger and will stay open.
The jobs of 16 Opera House staff are also safe for now.
Hastings Mayor Lawrence Yule said he was "very surprised" to learn last Wednesday that engineers believed the theatre was earthquake prone because a $13.6 million Opera House upgrade between 2004-2007 had included work to bring it up to code.
After receiving last week's verbal briefing from engineers that the theatre was "well below" the baseline 34 per cent mark in terms of the national building standard, meaning it was earthquake prone, the council was now awaiting a full written report, due by March 21.
That report will be peer-reviewed before the council makes a decision on what to do about the theatre, most likely in mid-May.
Hawke's Bay Opera House, the company that manages the facility for the council, has been scrambling to relocate coming events to other venues in the region.
Two events booked for this month - Grease the Movie and Motown - have been cancelled while EIT's two-day graduation ceremony and a sold-out SOL3 MIO performance have been relocated to Napier's Municipal Theatre.
Opera House staff are continuing to work with the promoters of 10 other events booked between now and the end of May, including Rhys Darby and Dame Kiri Te Kanawa, on relocation options.
Hawke's Bay Opera House chairman Chris O'Reilly said ticket holders should contact Ticketek for refunds or to rebook at alternative venues. "We're working as hard as we can and as quickly as we can with all of the promoters on a range of events to see which of those can still be hosted in the wider [Opera House] facility and if not we'll do whatever it takes to find an appropriate venue for them," Mr O'Reilly said.
The company was "absolutely driven by a safety-first policy," he said, so it had been a "no-brainer" to close the venue as soon as the seismic issue was raised. It was too early to assess the financial impact on the business.
Council chief executive Ross McLeod said there had been no events at the theatre since the problem came to light last week.
"There was a Wednesday-night event [a performance by Australian comedian Carl Barron] that was happening as we were hearing the news and we really only got a real handle on this on Thursday."
Mr McLeod said the facility's staff would be kept on.
"In the short term they've got quite a lot of work to do with the management of the Opera House. We'll be wanting to receive the engineering reports looking at the longer-term plans before we make any decisions of that nature."
Mr Yule said the information the council would have in May would enable it to make a decision on whether strengthening work on the side walls was an option ahead of re-opening the facility.
"We have some options, potentially - not many, I don't think - to find a quick fix to make it safe enough to be able to be continued to be used [from May].
"If there aren't those types of solutions then we're looking at a much longer period of closure and a much more significant cost in upgrading."
Mr McLeod said: "The council quite appropriately took professional advice in 2004 and then followed that professional advice to undertake earthquake strengthening and a structural upgrade. That work was undertaken but the council then, to be safe, commissioned assurance work in 2013 and now we're doing further assurance work which has led us to this."