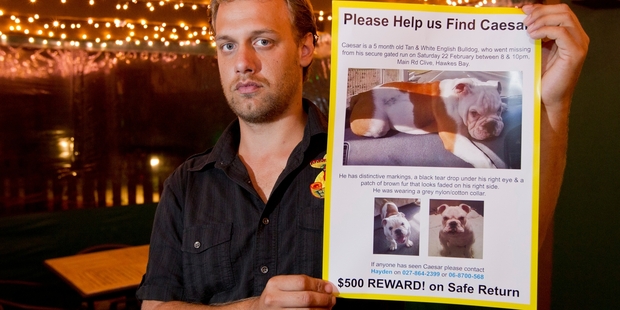 A $500 reward has been offered for information leading to the safe return of Caesar, a purebred English bulldog, stolen from Fajitas Mexican restaurant in Clive last weekend.
The six-month-old dog's owner and restaurant's general manager Hayden van Hooff said he discovered his beloved pet was missing after finishing work last Saturday night.
"The neighbours saw a guy lurking around the back of the restaurant about 9pm.
"He has his own run out the back. The waitresses and staff here just love him and play with him all the time."
A self-confessed animal lover, Mr van Hooff formerly trained animals for film and television for eight years before joining Fajitas when it opened last year.
"I got him as a six-week-old. I called him Caesar because when he was a pup he tried to stand up to me and did that typical bulldog stance, barking away, so I thought Caesar, Roman emperor."
He said he was overwhelmed by the number of tip-offs from people believing they had seen his dog.
"About 200 to 400 messages on Facebook a day, 10 to 20 phone calls and about 50 to 60 texts."
With the help of friends, Mr van Hooff has distributed posters around Clive, Havelock North and parts of Napier and Hastings hoping someone knows where his tan-and-white bulldog is.
He said Caesar had distinctive markings, including a black tear drop under his right eye and a patch of faded brown fur on his right side. He was wearing a grey collar when he disappeared.
If you have seen him or if you know where he is, contact Constable Lyndon Large on 06 8310700 or information can be left anonymously on Crimestoppers 0800 555 111.