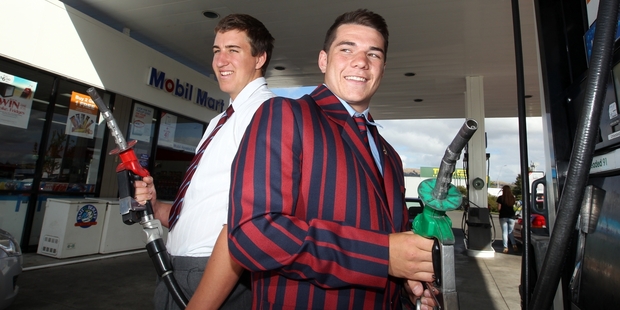 Two local lads working part-time at a Havelock North service station have been named head boys of their respective high schools for 2014.
Ben Green was named Havelock North High School head boy during the first week of the new school year in front of his fellow Year 13 students.
"It feels great and I'm looking forward to the challenges and excitement it brings," the 17-year-old said.
Joe Walding-Karaitiana was also named head boy at his respective college, Hastings Boys' High School.
"I felt overwhelmed and so honoured," Joe said after being awarded the head boy role. "I had no clue up until the end of senior prizegiving which is when the head prefect gets announced."
"We've known each other since intermediate, we played in the same Ross Shield rugby team together," said Ben, who has spent all his secondary school years at Havelock North High School.
The two are friends outside of work but have been employed at the Havelock North Mobil together for about 10 months after Joe joined the crew. Ben had been at the service station since September 2012.
"I love rugby but also the academic life of school," Ben, who is captaining his first XV this season, said. "I want to study first-year health sciences at Otago Uni, then find a job in a medical profession which appeals the most."
Joe will also captain his first XV this season, after he was co-captain last year, he also boxes at the Flaxmere Boxing Academy. "My dream is to become a professional rugby player, which is what I would like to set my goals for. But I would like to go to uni and gain a degree, potentially in commerce and international relations," said the 17-year-old, who is currently on a school leadership camp.
"I'd like to learn more about the world and why decisions are made, and in the long run I'd like to be able to have an influence on those decisions."