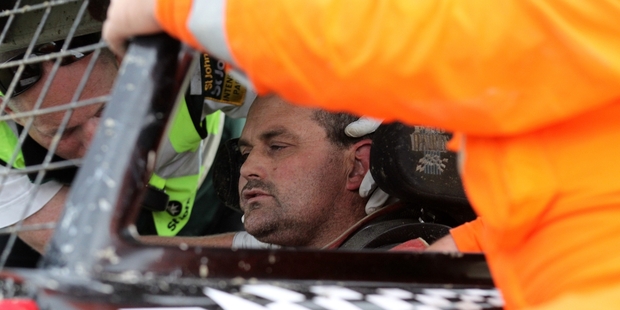 VETERAN Tony Palmer gave the Meeanee Maulers supporters something to toast when the Peter Barry Memorial Stockcar Teams event began at Meeanee last night.
On lap one of the Maulers' first race against defending champions the Palmerston North Pumas, Palmer smashed the Pumas' multiple national stockcar champion Peter Rees into the wall near the pit gate at Hauraki Meeanee Speedway.
Unfortunately, Rees was unconscious for a short period and his car hit the pace ute as he drove infield to seek assistance.
He was taken to Hawke's Bay Hospital to have a suspected neck injury treated and officials said Rees was likely to have a 21-day stand-down, which would rule him out of the country's glamour meeting, the Palmerston North-hosted Superstock teams event next weekend.
Apart from Palmer's hit on Rees, there was little for Maulers fans to enthuse about last night as they bowed out of contention for tonight's semifinals of the third annual event raced in memory of Barry, a Central Hawke's Bay farmer and businessman who died from head injuries received when racing for the Kihi Kihi Kings Superstock team in Palmerston North in 2009.
The Maulers were beaten 160-35 by the Pumas and then in their second race 165-30 by the Bay Park Bulldogs. Against the Pumas, Marty Cooke was the best of the Maulers with a third placing.
In other races completed before Hawke's Bay Today went to press last night, the Wellington Young Guns beat the inaugural winners of the title, the Waikato Raiders 175-20, the North Island Roughies Select - including the Hawke's Bay pair of Keith Hingston and Grant Hollyman and the Bay-based, Palmerston North-contracted Aaron Iremonger - beat the Stratford Stormers 120-75, the Wanganui Vulcans beat the Gisborne Gladiators 165-30, and the Waikato Raiders thrashed the Has Beens Plus One 188-0.