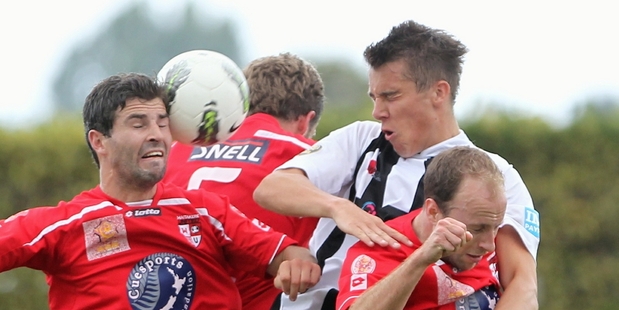 ANYONE WHO goes on to become anything in sport often harbours a sense of emptiness on the way to total fulfilment.
That is, the minute they start feeling comfortable at any level they have that burning desire to want to foot it at a different echelon.
Kinetic Electrical Hawke's Bay United soccer player Aaron Jones epitomises that breed of sportspeople.
You somehow get the impression the 20-year-old's not the type who is ever going to die wondering on a rash of what-ifs.
"My ambition is to play as high a level as I can," says the centreback before Bay United host WaiBOP United in Napier today in a 5pm kick-off at the Bluewater Stadium.
He drops a bombshell that no Bay United player has ever dared utter in public, not even in hushed tones.
"We want to get into the O-League."
The premiership leaders, after the round-robin home-and-away matches, automatically qualify for the Oceania league.
The 2013-14 champions after the play-offs also will qualify. If the premiership leaders and play-off champions are the same team the second-placed side on the ladder will gain promotion to foot it in the league to battle for the right to go to the club world championship.
Waitakere United and Auckland City have had a monopoly on the O-League.
"Why not?" he declares. "It's a realistic goal for us."
It certainly is for a franchise which created history last season when coach Chris Greatholder mentored them to their first play-offs in the history of the nine-year premiership.
They have played eight games this summer and lost only two games ... well, one pedantically speaking.
Bay United lost 2-1 to Team Wellington at home but forfeited three points for fielding new signing Harry Edge in their first outing after the Christmas holidays, a 2-1 victory over newcomers Wanderers Soccer Club in North Harbour.
"We've moved on from that," Jones says dismissively but emphasises had they not lost those points they would have been nipping on the heels of Auckland City. As long as they keep winning Bay United will keep trading places for the second rung on the ladder.
Jones stresses the desire to play in the O-League is a goal the squad set. "It's my personal goal, too, so I didn't just want to stay here to finish fourth and fifth."
Another snapshot of the squad's mentality this season's is their disappointment in the stalemates against Auckland City (4-4) and Waitakere United (2-2).
"We were leading 3-1 against Auckland at halftime so we should have won."
Ditto Waitakere.
"It was a great result but kind of disappointing we didn't come away with three points."
Evidently the loss to Team Wellington seemed to hurt more because it left a chink on their home turf that has established a fortress-like reputation.
Convivial off the field, Jones displays a sense of assertiveness on it that tends to make life unpleasant for the opposition in the ASB Premiership.
For the past two seasons in the national summer league, he's learned a lot from a fellow English import, centreback and skipper Bill Robertson.
"I'm still very young so I'm trying to build a CV," says Jones, who had to slip on the captain's armband when Robertson had an early shower in the draw against Auckland City at Kiwitea St before Christmas.
"He's brilliant. Everyone knows that," says the understudy of Robertson, who marshals the back line with aplomb.
He reveals his pre-season agenda included assuming more responsibility in the team.
Perhaps what sticks out in Jones' case is how he has found a foothold in the golden boot race, a domain that belongs to the pretty boys up front.
He has scored three goals, joining striker Tomas Mosquera and midfielder Tom Biss as the top scorers for Bay United, in a cluster of six.
Auckland City's Emiliano Tade is setting the pace with six goals. Canterbury United's Aaron Clapham is next on five with Richie Cardozo, of Waitakere United.
Milos Nikolic (WaiBOP), Maksim Manko (Waitakere), Henrique Alves Viana (Southern Utd) and Henry Fa'arodo (Wellington) are in the following tier with four goals.
Mosquera, out with injury today, would have been on five had he not lost his goals because of the administrative blunder on Edge's paperwork against the Wanderers.
Jones enjoys a licence to roam, comfortable in the knowledge his midfield will fill the void in the back when he ventures up.
He jokes about Robertson helping set up a few more goal-scoring opportunities for him.
His commitment to franchise and career is reflected in his sacrifice to not return to Chesterfield, about half an hour's drive from Derby, in England, to visit friends and family for 18 months.
With father Peter Jones a centreback for Wolverhampton Wanderers in his schoolboy days, Jones and 25-year-old brother Dean needed no inspiration to play the beautiful game.
Dean broke the mould as a striker, playing in the amateur Sunday league.
Watching his brother play, Jones gravitated to Dean's training sessions and at the age of 13 he signed for Sheffield Wednesday before shifting to Doncaster Rovers three years later.
His father and mother Angela Jones, who he Skypes regularly, remain his biggest fans.
Aaron Jones played in the Lotto Central League for the Bluewater Napier City Rovers in the region's premier winter competition.
He isn't in a position to commit to the Rovers just yet and is focused on the premiership for now.
His desire to challenge himself at a higher level may mean he could return to Britain or elsewhere.
Jones stresses he left England because his professional club released him.
"There are some good leagues in the UK so I've got the option to play professional football where I've been a part of since I was 16."
Today is a game the Bay franchise would have ticked as a must-win but Jones says no game in the premiership this season is a given.
"I haven't been here for 10 years so I can only speak for two seasons but I'm told the league has never been so competitive before."
In thumping Southern United 6-1 in Dunedin last Saturday, he feels Bay United have sent a message to the rest of the premiership that they mean business this season.
WaiBOP coach Peter Smith says his troops are mindful Bay United are on a roll and oozing with confidence coming off a big win in the last round.
"It'll be a big ask for us but we're not coming in short of confidence," Smith says of a team who are on a four-match losing streak.
The visitors have former Bay United striker Sam Messam in their squad after securing his services in the transfer window.
"He's a top lad and he's coming from St George's [club in Australia]."
However, Smith says the brother of All Black Liam Messam is not necessarily in the starting XI despite training relatively well.
"He's got a question mark ... with all the niggles with players but he's there or thereabouts."
The squad also has Shaydon Young, the son of former Auckland City player Grant.
Their goalkeeper and captain is Andy McNeil, a former Hibernian (Scotland) player and they boast All White defender Aaron Scott who will be posted at rightback.
Smith is quick to remind Bay fans WaiBOP beat Bay United 2-0 in a pre-season match in Taupo.
"We've never played bad. We've just come up short," he says, adding Greatholder deserved plaudits for taking the hosts to new heights.