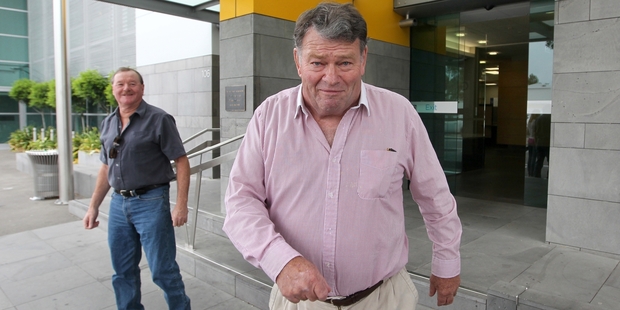 Former policeman and two-time Napier City Council candidate Stuart McLachlan has been described as a "bully" by a lotto shop employee.
McLachlan, 68, appeared in Hastings District Court yesterday for a judge-alone hearing in relation to a charge of assault laid last March.
Police allege McLachlan went to a Havelock North lotto shop on March 9 and refused to pay $1.30 he owed on a lotto ticket.
The court heard he attempted to leave the store with the lotto ticket and the female employee he had been dealing with tried to stop him.
Police said McLachlan then pushed and swore at the woman as she attempted to get the ticket back.
The woman gave evidence in court yesterday. She said McLachlan shoved her with two hands from outside the lotto store towards the nearby New World, swearing at her as he did so.
"He was angry, really, really angry. When he was swearing at me spit was coming out of his mouth, I had to wipe my glasses off afterwards," she testified.
"All I could think about was not falling on the ground because I didn't want him to put the boot in."
McLachlan's lawyer said his client was trying to get to the New World to get the $1.30 needed to pay for the ticket. This was not accepted by the shop employee who said McLachlan told her he knew the owner and would get credit from him for the ticket.
She said she told him she did not have the authority to do that.
A witness told the court she ran over to McLachlan and the woman outside the lotto shop after noticing McLachlan was raising his fists and yelling.
"It was more than an argument. He was clearly drunk, angry, violent. He was stumbling back and forth."
The witness said McLachlan was charging towards the woman with two open hands towards her chest and she saw him push the woman up to 30 times.
The incident allegedly ended when McLachlan grabbed the victim by her shirt and shoved the lotto ticket down it, lodging it in her bra.
In an interview with police on March 28, McLachlan said he was trying to get to the New World to get the $1.30 for the lotto shop employee when she got in his way.
"If I did push her it was just trying to get her out of my way, she was right up in my face."
He said he did not want to give the lotto ticket back before going to the supermarket because he was scared she would cancel it and he would "miss out on millions".
When asked about shoving the ticket down the woman's top McLachlan said: "I can't recall now, I gave it back to her. I would have gently put it down her top.
"I had no intention to hurt the lady. I never swore but I did use some insulting words which I unreservedly apologise for."
At one point during the two-hour long hearing McLachlan said "I don't have to listen to that lady" when asked a question by Judge Bridget Mackintosh.
McLachlan first appeared in court last August and twice turned down diversion.
He applied to have his name suppressed during campaigning for the Napier City Council last September but the application was declined by Judge Tony Adeane. McLachlan was not elected to the council.