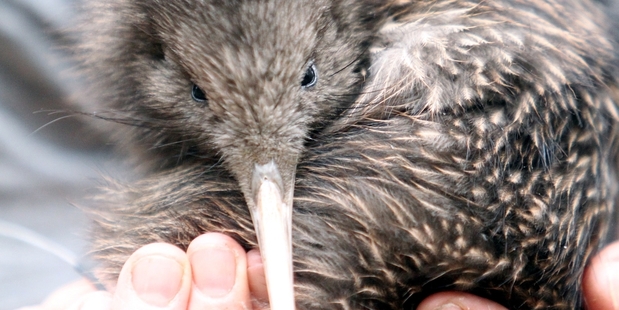 After years of peering through thick glass walls into dark enclosures in the hope of catching a fleeting glance of a kiwi it was quite strange to be presented with one close enough to touch in the middle of a hot summer's day.
In early December I, along with Hawke's Bay Today photographer Paul Taylor, accompanied Dave France and his family on a trip to the Cape Sanctuary to seek out one of our elusive national birds.
Mr France is the sales and marketing manager for ENZAFOODS, who donated $500 to the Cape Sanctuary after running a promotion with their Freshfields brand.
Mr France said the company were looking for a positive local cause to support and came across Cape Sanctuary.
"The kiwi chicks were a really great thing for us to support, being a New Zealand company it made sense to support our iconic bird. Timing wise it was also good as the young kiwi are out at the moment."
The company ran a competition to raise money for the cause.
"A percent of the money raised went towards the kiwis. We really wanted to keep in with the theme of keeping it kiwi and focus on the fact that we are a New Zealand brand."
Following the conclusion of the competition Mr France, wife Fiona and children Caity, 9, and Bridget, 7, were invited up to the sanctuary to see where their money would be going.
The main objective - seeing a kiwi chick firsthand.
Luckily for them Cape Sanctuary manager Tamsin Ward-Smith was on hand to help.
With Ms Ward-Smith leading the way we proceeded into pine forest following the sound of radio transmitters attached to all the kiwis in the sanctuary.
"We originally released the kiwi into native forest, thinking native birds would prefer native forest but we soon found they moved into the pine forest," Ms Ward-Smith said.
Radio transmitters, at a cost of about $200 each, are fitted to every kiwi in the sanctuary, thought to be about 90.
We made our way very carefully into the depths of the shady forest after being told to watch where we walked as kiwis often hide under fallen pine needles.
About 20 minutes into the journey Ms Ward-Smith uncovered a three month old kiwi called Oracle, fast asleep in a little burrow.
Like anyone being woken up in the middle of the night Oracle was pretty grumpy to be bundled out of bed and made his discontent known loudly.
He had bright, sharp little eyes and was fluffier than I expected but almost bristly to touch.
We formed a circle on the forest floor and watched as Ms Ward-Smith fixed up the radio transmitter on his leg and weighed him - he was a whopping 535 grams - before letting all the family have a hold.
It turns out the correct way to hold a kiwi is by the legs as their bodies are very delicate.
You grip both legs and place the bird up against your body in the hope it will relax and sit there nicely.
At one point Oracle got a little too relaxed and left a little present on nine-year-old Caity's lap.
"You're so lucky!" Ms Ward-Smith told her.
"How many people can say they've been pooed on by a kiwi?"
Ms Ward-Smith takes a variety of groups into the forest including paying visitors from the Cape Kidnappers Lodge.
"We normally only try to take four people, it loses a bit of it's specialness if it's too many more than that."
The sanctuary also runs a nursery where kiwi chicks from across the country are raised to adulthood before being returned to their region of origin.
Aside from the kiwis, there's a lot more to see at the Cape Sanctuary which spans over 2500 hectares.
Cape Sanctuary on the Cape Kidnappers peninsula is a project driven and funded by the landowners - Andy and Liz Lowe, and Julian Robertson
About 14 species have been transferred to the site since its inception, including tuatara, giant weta and a variety of sea-birds.
All are cared for by Ms Ward-Smith, three other paid employees and about 50 active volunteers every month.