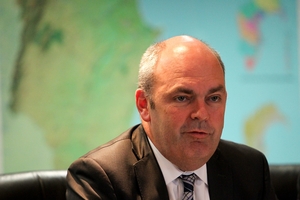 The Ruataniwha dam project and oil and gas exploration will create jobs and help prevent the exodus of people from our smaller centres, Economic Development Minister Steven Joyce says.
Census figures released on Tuesday show that since 2006, the population in Wairoa and Central Hawke's Bay have dropped by 7 per cent and 1.8 per cent respectively - a total of 831 people. There was an increase of 3.4 per cent in both Hastings and Napier, which offset the decline in the rural areas.
Mr Joyce said yesterday the shift of population from rural to urban areas in Hawke's Bay was following a worldwide trend "where bigger centres are going to continue to grow and smaller centres don't".
"There are some smaller centres that do continue to grow," he said.
"It really comes down to the job opportunities and for people to bring up their families in those areas."
He said the Bay needed to explore all opportunities for growth, with oil and gas and water storage two avenues which should be considered.
"If you look at most regions in New Zealand, yes, they all have service industries, engineering industries, but a lot of the growth is driven by the primary sector in the provincial areas."
Napier's Labour Party spokesman Stuart Nash disagreed, saying Hawke's Bay needed a regional growth strategy and a shift in focus away from the primary sector.
"If people want to work then they've got to leave the small towns, and move into the bigger cities, and it's a real shame because we are seeing a real hollowing out of small town provincial New Zealand.
"While acknowledging the importance of the primary sector, I think our focus needs to now be in other sectors.
"I'm a huge believer in innovative policies to attract businesses. Oil and gas is not the future of Hawke's Bay, and I don't think the dam is."
Companies such as ABB and Big Save Furniture were examples of Bay-based success stories which Mr Nash believed could be replicated.
Forestry also had huge potential for regional New Zealand and said he would "love" to see Wairoa freezing works develop a range of innovative products.
Labour leader David Cunliffe was unavailable yesterday.