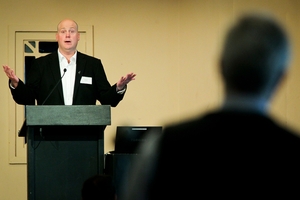 Just one oil field could contribute $1 billion to the GDP, Venture Taranaki chief executive Stuart Trundle told a symposium looking into the benefits and risks of exploration in Hawke's Bay.
More than 200 people packed the Hawke's Bay Opera House yesterday to hear experts, environmentalists and industry leaders discuss the oil and gas industry.
Speaking at the Oil and Gas Symposium, Mr Trundle said Taranaki was enjoying unprecedented levels of economic activity thanks to its oil and gas industry.
Oil and gas exploration is happening, or about to happen, throughout Hawke's Bay and the symposium was designed to be a forum for information and viewpoints on issues such as fracking.
Since it was first mooted, oil and gas exploration in Hawke's Bay has been a contentious issue, the practice of fracking in particular dividing opinion between those who claim it's an environmental risk and those who say the industry could provide huge economic benefits for the region.
The Venture Taranaki presentation was just one of 12 given at the symposium, hosted by Hastings District Council and chaired by Hastings mayor Lawrence Yule.
Kyle Bland, petroleum geologist for Government-owned GNS Science, said Hawke's Bay had a very complicated geology "chopped up in lots of different places". The Ruataniwha aquifer was unlikely to be explored, a historical well showing no petroleum-bearing rock beneath it.
"We're not so sure about Heretaunga," he said. Gas was "already bubbling up through aquifers" in other areas.
The first well on the east coast had been drilled in 1872 but the region's potential was still underexplored, he said.
More research was needed and "there is no better way to find what is actually under your feet than to drill a hole".
The Parliamentary Commissioner for the Environment, Dr Jan Wright, also spoke. Her interim report on fracking said it could be risky if not managed and regulated properly.
She told the symposium audience that fracking for natural gas was preferable to burning coal because natural gas was "the most benign of the fossil fuels".
She said the very rapid growth of the oil and gas industry in Australia and the United States had led to "speed wobbles".
"When you get the rapid growth of any industry it can take you unawares. So I think it's really good that you are here today, thinking about this now."
Taranaki dairy farmer Jane O'Neill endorsed hosting TAG Oil on her land. TAG has several wells on her farms and she said it had been a "fascinating experience".
Many had tried to talk her out of hosting the company.
"I decided I needed to stop listening to all the sceptical and negative comments that I was being bombarded with and make my own informed decision," she said.
Her concerns about interference with farming operations, water integrity, traffic and neighbours were allayed and it had proven to be a "mutually beneficial relationship".
However, the Taranaki speaker for Don't Frack the Bay, dairy farmer Sarah Roberts, condemned the industry. Outspoken on the issue for two years, she lives beside TAG's Cheal oil field.
The view from her home now included oil wells and her sister had reported a funny smell in the air and felt the ground vibrating.
"The oil company representative said they did what they liked because they could," she told the audience. She related stories from other people near well sites who also had negative experiences with the oil industry and she criticised the role of councils. "A social licence to operate has not yet been earned - the public need to be involved."
She received the longest applause of all speakers and a question from the floor asked why she was nearly the last speaker when she was "much more important".
Mr Yule said regulatory issues had been presented first before other points of views.
"We have gone to great lengths to try and balance the day up," he said.