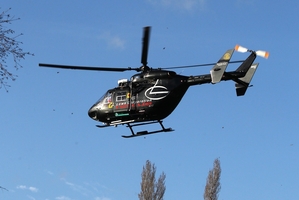 Flight tests and repairs continue on the out-of-service Lowe Corporation Helicopter, which has been out of action for close to six months.
The BK117 twin engine chopper is temporarily out of service after its rotor blade was damaged by gust of wind while preparing for takeoff from Wellington Hospital in April. At the time the damage was described as minor by helicopter rescue trust general manager Ian Wilmont.
While the chopper has been out of action, rescue missions have been flown in the region by the Squirrel replacement helicopter.
Lowe Corporation Rescue Helicopter spokeswoman Louise Harvey said the chopper still needed to complete more flight tests at the weekend before it was able to return to rescue operations.
She indicated the BK117 would return to its role as the primary rescue aircraft for Hawke's Bay next week.
In April the crippled helicopter was lifted off the Wellington Hospital rooftop helipad by crane and carried back to Hawke's Bay on a road transporter.
The Squirrel was replaced by the bigger BK117 in 2010 because it had been struggling with weight performance issues.
The payload was becoming increasingly difficult in certain missions, such as patients weighing over 85kg and at higher altitudes.
Each year the rescue helicopter service assists in over 300 missions within Hawke's Bay.
The Trust is supported by generous contributions and fundraising from individuals and organisations in the region.
The Lowe Corporation Rescue Helicopter crew was called into action yesterday at about 12pm after a 31-year-old man fell from his horse while riding on the road at Tuai, near Lake Waikaremonana.
He suffered shoulder and rib injuries and was airlifted to Hawke's Bay Hospital for further treatment.