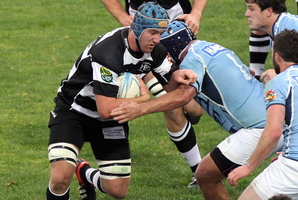 Mark Abbott ... way to back up the big call from yours truly!
The call?
Back in August yours truly compared Hawke's Bay Magpies lock Abbott with All Blacks Brodie Retallick and predicted Abbott could match Retallick's feat of scoring a Super Rugby contract after his first full season of ITM Cup.
The call was made after Abbott produced a player-of-the-match performance in the Magpies' Championship opener, a 45-18 thrashing of the Manawatu Turbos in Napier.
Like Retallick with the Magpies in 2011, Abbott, has been a model of consistency this season and has been rewarded with a Hurricanes contract for next year. The 'Canes were one of three franchises chasing his signature.
"It was confirmed last week. From what I hear from the other boys with the Hurricanes they are a pretty good organisation. It's an exciting opportunity and I can't wait to get into it," Abbott said yesterday.
While Abbott's workrate, mobility and physicality at the breakdown reminds one of Retallick, his 62 metre run in the 32nd minute of the Magpies' 55-10 drubbing of North Harbour at McLean Park on Sunday had yours truly comparing him with another Magpies lock who gained international honours, 2009 All Black Bryn Evans.
In 2005 Evans made two similar runs at McLean Park, both of which led to tries - one for Havelock North in a 30-28 Maddison Trophy final loss to Napier Pirate Rugby and Sports and one for the Magpies in a 32-17 NPC division two final win against Nelson Bays.
"I've been copping a bit of flak from several supporters. They reckon if I had gone on the outside of the last defender I could have scored," Abbott, the Napier Old Boys Marist's Sportsman of the Year award winner, explained.
Rather than criticising Abbott, those supporters should have given Magpies winger and new Rebels Super Rugby signing Telusa Veainu a bit of stick for not putting himself in a better position to take a pass from Abbott. Had Veainu done that he could have had four tries beside his name at the final whistle rather than his first ITM Cup hat-trick.
However, as former Canterbury Colts representative Abbott, 23, was quick to point out before the Magpies' training yesterday, tomorrow night's clash against the Southland Stags in Invercargill, rather than the Harbour game or Super Rugby signings, must be the main focus now.
"When you look at the Stags they are a similar team to North Harbour in the manner in which they defend. But they keep going for 80 minutes ... they've proven they can come back strong and win games so it's crucial we push on for 80 minutes."
Although he has been a Canterbury age group representative, Abbott has never played at Invercargill's Rugby Park Stadium. Whenever his Canterbury teams played Southland side they would usually meet halfway at locations like Oamaru.
Abbott has heard from Magpies teammates how tough it is to win in Invercargill. The Magpies lost 35-7 there last year and haven't won in Invercargill since 2007.
"The Stags are a good team with parochial fans just like us. We just have to focus on our game and build on our good performance at the weekend," Abbott said.
The flatmate of fellow Magpies lock Michael Allardice is a keen golfer when he isn't training for or playing rugby. Magpies teammates Brendon O'Connor and Andrew Horrell are regular golfing opponents.
"I've been a bit shaky but I'm starting to come right on the course," Abbott added.
As expected, Magpies head coach Craig Philpott has made two changes to his starting XV used in Sunday's 55-10 walloping of North Harbour in Napier. In-form No8 Mark Atkins has recovered from a bout of the flu and will return to the back of the scrum.
This means captain Mike Coman will switch back to his regular blindside flanker position, replacing Trent Boswell-Wakefield, who replaces Tom Parsons on the subs bench.
The other change to the personnel on the pine sees Karl Lowe return from his hamstring injury to replace Tony Lamborn.