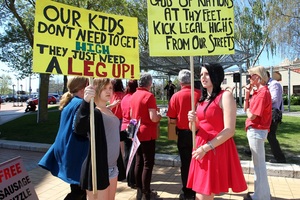 About 300 people gathered in central Hastings today with placards and passionate pleas during a rally supporting the ban of synthetic drugs.
Speakers took to the stage including Napier MP Chris Tremain, who was heckled by a woman wanting to hear from, "the little people".
"Let them get up there, it's not affecting you - you are not the one buying it, your kids are not the ones buying it," she said.
Teenagers as young as 16, who had witnessed the effects on their peers joined in to say no to legal highs, mothers of addicts spoke out and smaller groups broke off to protest outside licensed retailers to hammer their message home.