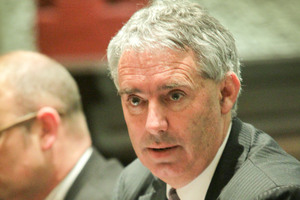 Hastings Mayor Lawrence Yule will meet with associate health minister Todd McClay to discuss legal highs in the wake of public discontent with the way they have been legislated.
Mr Yule will meet with the minister in Wellington today in his role as president of Local Government New Zealand and local MPs Craig Foss and Chris Tremain say they will also attend.
The two MPs said they were pleased with the progress that is being made to get synthetic highs off the streets and central government is serious about restricting their sale.
In a statement, the pair said only five retailers in Hawke's Bay were licensed to sell the synthetic drugs.
Legislation in July introduced restrictions on legal highs including prohibiting sales from dairies, grocery stores, anywhere alcohol was sold and to people under 18.
Regardless of the name of the product it was illegal to supply to under-18s, therefore, the law had been broken in relation to the case of a 12-year-old in Hastings and police were investigating, they said.
"The new regime requires identification of all ingredients, meaning a considered decision can now be made on whether a product is low-risk. If not, it is not approved."
Mr Tremain is expected to attend a legal highs rally being held in Hastings tomorrow, aimed an increasing pressure on government to ban the sale of the drugs. The rally is being organised by Hastings District councillors Sandra Hazlehurst and Cynthia Bowers and is set to take place at 12.30pm at the Hastings town clock.