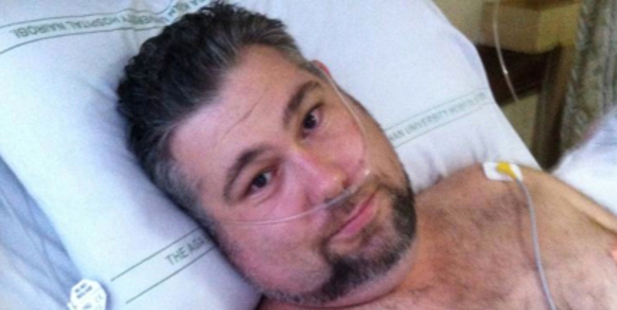 A Hawke's Bay man shot during the Kenyan mall siege has finally been able to make contact with his Napier-based mother, telling her he was expecting surgery yesterday and was in good spirits.
Andrew McLaren, 34, was at Nairobi's Westgate shopping mall when the attack was carried out as gunmen with links to al-Qaeda tossed grenades. The attack has already killed an estimated 68 people and wounded more than 175.
Mr McLaren's mother, Elaine McLaren, said she was "hugely relieved" to have heard some good news from Nairobi.
"He is supposed to have surgery today [Monday]. I spoke to him and he is in good spirits, he had a bit of a laugh, but he is a bit weak but that is to be expected. I can imagine he is looking forward to coming home. He is very, very lucky."
Mr McLaren is waiting to have surgery at Aga Khan Hospital in the Kenyan capital to remove shrapnel fragments from his body. A nurse at Aga Khan Hospital's surgical ward said Mr McLaren was "very stable" but he was not available to talk.
Elaine McLaren said she had remained in contact with her daughter-in-law Kathy McLaren, who had "been very tough through all this, but is also very scared at the same time".
She said the couple were both at the mall when the gunman began shooting and lobbing grenades, forcing the pair to take cover on the floor before Mr McLaren was shot in the back. Luckily, the bullet missed vital organs.
Mr McLaren had been working in Kenya since 2011 for Olivado, an olive oil health products company with production bases in Kerikeri and Nairobi. His role with the company means he splits his time between the two bases.
The massacre is the second violent incident involving Olivado in Nairobi. In 2007 Aucklander Julian Nathan, 76, was beaten to death by intruders in an apartment complex where he was staying with two colleagues of his son Chris, who worked for the company.
Olivado chief executive Gary Hannam, who flew into Nairobi yesterday, said Mr McLaren was lucky to have survived but was coping well.
"I think anybody who got out of that carnage is exceptionally lucky," Mr Hannam said.
"He's obviously had a horrific experience. He had a bullet wound and he's having an operation this morning, but in spite of his injuries he's very well and his wife is supremely staunch."
It would take Mr McLaren about three or four weeks to recover.
Mr Hannam spoke to the McLarens yesterday about their ordeal, which Mr Hannam described as like being in a war - except because it was an act of terrorism it was "worse than being in a war".
"They were actually sitting in a cafe and they heard some gunfire from inside the building. The cafe terrace faced the road, so they got down and bullets were just going everywhere - I mean, these guys were firing indiscriminately all over the place.
"Andrew got hit and there was an older gentleman who was nearby them who told them to stay down."
Mr Hannam said a cafe worker got the couple to safety and put them in a taxi.
"They were one of the first people to the Aga Khan Hospital, so he was saved - very lucky."
Mr Hannam said people in Nairobi were in shock.
"Nairobi, in spite of its reputation, is a very quiet place. I've been coming here for a long time and this is not what usually happens," he said. "This is a terrorist attack, and it's not something that's a reflection upon the safety of the place."
A Ministry of Foreign Affairs and Trade spokesperson said ministry officials were monitoring the situation in Kenya closely.
The New Zealand High Commission in Pretoria was continuing to provide consular assistance to Mr McLaren's next of kin.additional reporting APNZ