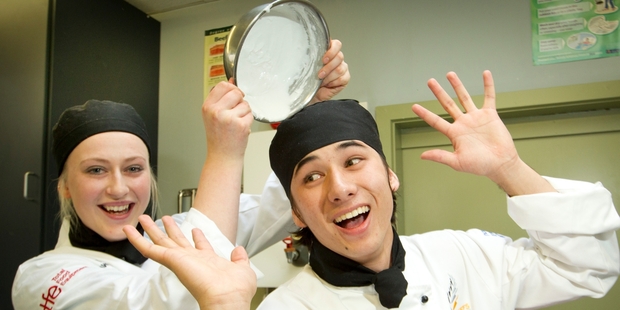 It is not unknown in the cooking business to have to put a dish together in a hurry for a special occasion.
So when the original Hawke's Bay school duo set to take part in the City and Guilds Secondary School Team Cooking Challenge was forced to withdraw there had to be a shuffling of the ingredients.
In a first for the annual national cooking competition, Hawke's Bay will be represented by a joint team which has been put together by City and Guilds regional manager Glenn Fulcher.
Molly-Mae Foote from Hastings Girls' High School and James Grant from Napier Boys' High School, both 17 and Year 13s, had both picked up silver medals at the National Culinary Fare competition in August where they competed as part of the Hawke's Bay team.
Mr Fulcher said when he heard the original team for the national City and Guilds competition, which is being staged in Auckland today, had been forced to withdraw he had a chat with Molly-Mae and James and put the idea to them.
They jumped at it, and in the process have become the first regional team to be represented by students from different schools.
"I did pretty well in the Hawke's Bay competition so thought I'd give it a shot," Molly-Mae said, adding that her long-term goal was to take up a career in restaurant chef work.
Which is what James is also looking to do, and had started his journey through doing part-time work in the kitchen at Mission Estate.
The national competition, and the challenges it throws up, was perfect to further hone culinary skills, he said.
"I've been interested in cooking since Year 9. My granddad is a great home cook and does a really good sweet and sour pork dish, and yeah, I'm doing more cooking at home now."
For the past two-and-a-half weeks they have put in the hours after school and practiced every day.
"They have just about pretty well nailed it now," Mr Fulcher said as he watched them at work on Tuesday afternoon at the Napier Boy's High School specialised home economics room. Was he like Gordon Ramsey and dished out the hard orders and criticism?
"No, not at all," he said. "But there's been a couple of moments. You can't settle for making even a slight error in this. It has to be perfect."
The competition is to prepare, cook and present four portions of an entree and four of a main course within 90 minutes, with the entree portions containing kumara as the principal component.
The main must include three New Zealand-grown fresh vegetables and a chicken breast.
The young cooking duo were not giving too much away but were confident what they had put together would please the judges tastebuds.
Up for grabs for the winning students is a $2000 scholarship towards study of a City and Guilds International Catering Qualification.