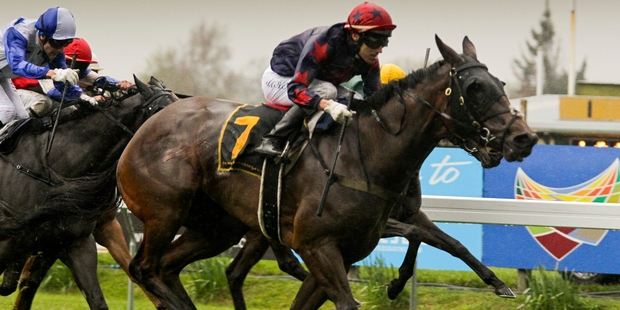 If blokes are honest they'll be the first to admit it takes a rare male species to listen to their missus, let alone habitually.
As it turns out, Ken Kelso belongs to that breed of men who "quite often" lends an ear to wife and fellow Matamata trainer Bev.
"It was my wife's idea to put a hood [blinkers] on her today for the first time in a group one race," a grinning Ken Kelso disclosed during the winner's circle ceremony held indoors on Saturday after jockey Michael Coleman and Xanadu called the bluff of Leith Innes riding veteran Mufhasa in the final 100m home stretch of the Windsor Park Plate premier race of the second meeting of the Rush Munro's Hawke's Bay Spring Racing Carnival in Hastings.
"It was a big call, really, and I was a little bit against it because she [Xanadu] might have raced too early but she [Bev] was adamant to try something," he said of the 5-year-old Little Avondale Trust-bred mare.
Bev's terse rhetorical reply had a modicum of finality about it: "Do you want to come second again?"
Xanadu, who clinched her second group one title, has finished runner-up four times in the elite races, dating back to the Makfi Challenge Stakes here in September last year.
Blinkers tend to perk up horses, especially if they start becoming lackadaisical with the onset of age.
"They tend to get into a routine so it sharpens them up."
He phoned Bev, who didn't travel to Hastings, and she was "over the moon because it's our third win of the day".
The Kelso-trained Bounding, with Mark Du Plessis in the saddle, won the group three HB Breeders Gold Trail Stakes.
Du Plessis also rode the couple's Traveller to victory in the 2000m Hastings Heart of HB Premier.
Xanadu co-owner Wessel van der Scheer, who with John Gilbert (Wellington) and son Mike Gilbert (Sydney) represent the Block Partnership syndicate, revealed their camp weren't that confident after her 10th position in the Makfi stakes on August 31.
"She's never done that before ... everything looked fine, so yeah, we didn't know how she was going to go," said the Dutchman who recently settled in Auckland from Hong Kong with wife Daniela and their three children in pursuit of a "wonderful" lifestyle in New Zealand.
Overconfidence is a no-no for the Kelsos in group one races simply because they believe other contenders have earned the right to be in an elite field.
The sporadic fleeting thunderstorms suited Xanadu to the hilt, making the dead track a little soft underfoot.
She's the syndicate's second horse and the win would enhance her racing value before she's put out to breed, Van der Scheer said.
"She's never disappointed us, really," he said, believing the broodmare had earned them close to half a million dollars that would most likely be reinvested in the business.
Kelso said Xanadu would not return for the final of the Bay carnival trilogy, the Turks Spring Classic on October 5.
She'll instead jet off to Australia where her stint will culminate with the $A500,000 group one Myers Classic for fillies and mares above 3 years old in Flemington. The 1600m weight-for-age race runs in conjunction with the Victoria Derby Day, the Mackinnon Stakes and the Coolmore Stud Stakes as a build up to the Melbourne Cup.
Xanadu, who won the group one Thoroughbred Breeders Stakes at Te Aroha on April 6 this year, ran fifth in the group two $A175,000 Emancipation Stakes over 1600m in a dead (4) track in Randwick, Sydney, on April 27.
Conversely, Coleman was confident, putting the Makfi blowout down to a heavy track.
"We think she's a genuine group one horse so she's proven that again today and it was a great effort from a beautiful mare with a ton of ability. We're lucky to have her."
Xanadu, he felt, appreciated a 7-8 track and relished a little bit of cut on the ground after thunderstorm-like rain kicked in intermittently from 2.55pm.
"It's a bit of a bonus because the track can go either way," the 44-year-old Matamata jockey said.
Not finding themselves in the glare of the media became somewhat of a catalyst for the Xanadu camp.
"It does help because they were getting all the publicity and we were forgotten a little bit.
"After the Makfi there was a lot of talk about us and then they dropped off after that.
"I hardly had anyone from the press talk to me last week so that was good, going in there a little under the radar."
It was Coleman's 31st group one victory. He came close to nailing the Bay carnival treble on Wall Street in 2010 after settling for second place in the opening Mudgway Classic to Keep The Peace before going on to clinch the Windsor Park Plate and the Spring Classic.
The Xanadu-Coleman combo might as well have rained on the Bay parade, killing any hopes of a maiden fairytale carnival jockey/horse treble in a year.
With it went Survived trainer John Bary's 100th victory in New Zealand and jockey Opie Bosson's 44th group-one title march to a career 50.
Coleman simply put it down to group one racing and possibly the wet track not sitting comfortably with everyone else.
Not driving back home to Waikato on Saturday night, Coleman was content to have a few beers in the back seat before enjoying dinner with his family.
Survived didn't find much traction off the widest gate in the field of 12, finishing in ninth place, two behind fellow Hastings trainers Guy Lowry and Grant Cullen's Pimms Time. No Excuse Maggie was 11th.
The last race was abandoned after jockeys voted in favour of safety, albeit only 40 minutes after the feature plate event.