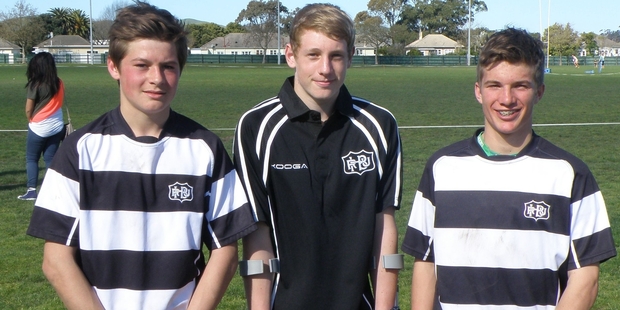 Three Dannevirke boys are proud members of the Hawke's Bay Under 14 team which thrashed Poverty Bay 86-5 at the weekend.
The three, Josh McIntyre, Humphrey Sheild and John Kerr, have made their way into the team from 125 nominations.
"It's marvellous to see three Dannevirke boys in the team," dad AJ McIntyre said.
"They've had a pretty gruelling time making their way into the final squad. It's been a mammoth effort."
The team trains two nights a week in Hawke's Bay and although all three boys are at boarding school, there's still been a big commitment from their families, Mr McIntyre said.
"The boys had to go through four trial games, before the squad was cut from 125 to 35 and they then went away on a training camp for a week, where the final squad of 22 was chosen.
"These three Dannevirke boys have done exceptionally well to make the team and to beat Poverty Bay in Gisborne, 86-5 was outstanding," Mr McIntyre said.
Although John Kerr had a knee injury and was unable to play at the weekend, Mr McIntyre said the boys "are doing Dannevirke proud".
"They're typical 13/14-year-olds and you don't get much emotion from them, but deep down they're pretty elated," he said.
This weekend the Hawke's Bay Under 14 team play Taranaki in Palmerston North at Ongley Park at 1pm.