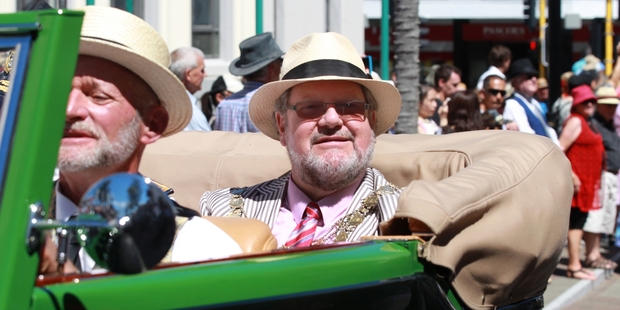 FOR Napier Mayor Bill Dalton and the council's chief executive officer Wayne Jack the Tremains Art Deco Weekend of 2014 was the first they had experienced in their new roles - and they were left absolutely buzzing.
As was the event's first official ambassador, singer/actor/dancer Shane Cortese who when asked if he would be back next year replied with a laugh "you try and stop me".
For Mr Dalton and Mr Jack the congratulations for the weekend could be proudly shared by the Art Deco Trust and the people of Napier.
"It was an amazing spectacle to see the streets packed with people all enjoying what was on offer," Mr Jack said.
"The feedback has been huge and it's testament to the people of Hawke's Bay as well as the Art Deco Trust and their army of volunteers who put so much work in to ensuring Napier takes the national spotlight by creating such a wonderful and unique event."
Mr Dalton, who got to see thousands of happy faces from his seat in the lead car in Saturday's big Automobila Vintage Car Parade, said he was thrilled and delighted to be part of the action.
"What a weekend it was," he said. "It was absolutely brilliant to see young and old decked out in deco costume - what a showcase it was for visitors to our city, and to top it off the weather couldn't have been better."
He wanted to acknowledge the work that went in behind the scenes to ensure the event was the best it could be.
"I'd like to thank Sally Jackson and her team at the Art Deco Trust for their dedication to making this event bigger and better each year."
Mr Cortese said his expectations had been exceeded.
"This is a remarkable thing - just the way everyone embraces it and becomes part of it."
He said he and wife Nerida arrived back in Auckland on Sunday night "on a high" and they would be booking to return next year. "And we'll be bringing a whole posse of people down with us."
Mr Cortese fizzed about the whole experience on Facebook, and wrote "the Gatsby picnic - well that was just another highlight, and walking the tents and picnics having a drink and saying g'day to many was awesome".
He also responded to one person who posted a note saying Mr Cortese looked bored and disinterested during his stint on stage at the Coiffure and Costume event at the Sound Shell.
"The costume comp' was outstanding and I want to thank Leigh, our co-judge for explaining so much about the authenticity of costumes and what to look for - never mistake fascination and learning for disinterest and boredom, quite the opposite ... "