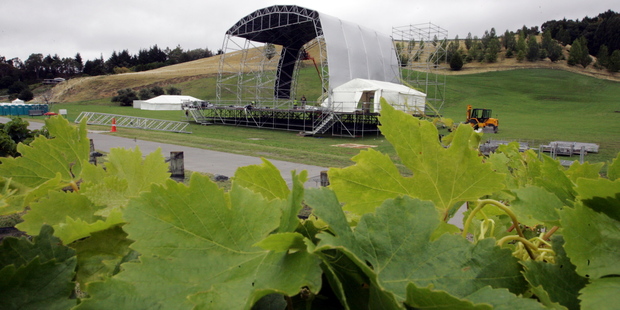 Hawke's Bay is being invaded by a star-studded case of singers for the annual Mission Concert, led by Ronan Keating.
The popular Keating was last here for a summer concert at Church Road in front of 6000 people.
"It's a beautiful part of the world and I'm looking forward to coming back," Keating said, adding he was keen to sample his Mission host's red wines.
Saturday's event features household names stretching back to the late 1970s, including Billy Ocean, Leo Sayer, Sharon Corr of Irish pop act the Corrs and former Spice Girl Mel C.
Organisers Sport and Entertainment (SEL) also secured the services of 72 musicians from Auckland's Philharmonic Orchestra, to be conducted by Marc Taddei who was there when they backed Kiri Te Kanawa for the first Mission Concert in 1993.
"I'm looking forward to working with the orchestra - I've been lucky to work with orchestras in the past and there is nothing finer, nothing more beautiful," Keating said.
The former Boyzone member struck solo success with When You Say Nothing at All, which went to No1 in the UK charts as the boy band was winding down.
"I was lucky to have that song because it made me, and I will never forget that ... I love to sing it."
Keating had been on a reunion tour with Boyzone when he agreed to come on board the Mission Concert.
Another artist to join early was Sharon Corr, who liked the idea of teaming with other artists to deliver individual sets.
Having split from family band the Corrs, she planned to re-live some of their greatest Celtic pop/rock hits such as Radio and So Young.
"I love to perform and love to sing to an audience - to be fully in the music and pull the crowd toward you," the singer and violinist said.
Exploring New Zealand and Hawke's Bay was an added highlight of the trip: "I hope to spend some time there."
For 70s sensation Leo Sayer, it will be a fleeting visit, though he'd dearly love to get reacquainted with the Art Deco capital.
"They're flying me in and out again - but we'll see" he said. "I love Napier and I want to visit there again. I was there during a tour some years ago and I wangled to stay four days - it's the town where time stood still."
He has toured New Zealand several times but it's been 12 years since he last landed on our shores.
Sayer's contemporary, Billy Ocean, grew up listening to the music of his father, but was also inspired by Sam Cooke, Nat King Cole and Frank Sinatra.
Growing up in London through his teenage years, he started singing in clubs and word soon spread that the kid was good.
Ocean was last in New Zealand in January 2012, when he played Raggamuffin Festival in Rotorua.
While he was keen to explore Hawke's Bay it was more likely to be after the concert, not before.
"Before a show it is about rest and preparation because my whole energy goes into it - mentally and spiritually. If it's 10 people or a 100 people or 10,000 people - I give it 100 per cent.
"When I'm finished, and if I have time left, then I'll look around."
Melanie Chisholm, or Mel C as she's better known, has never made it past Auckland airport, but New Zealand's been on her to-do list for years. She had viewed the Mission Estate Winery site and was blown away.
"Every show is different and there is something about a big audience - the atmosphere, and you cater for that. And with a bigger stage you can be a bit bolder with the actions."
Tickets are still available from missionconcert.co.nz, prices starting from $118 for general admission.