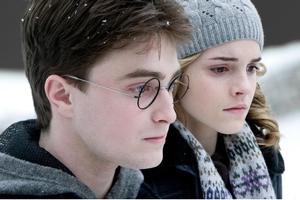 Rating: * * * *
Verdict: A good solid effort from director David Yates, the perfect lead-in to a grand finale.
The adaptation of the sixth book in J.K. Rowling's seven-strong Potter series doesn't let us down. All the prerequisite elements are present - stunning special effects, performances by a who's who of British acting talent, eccentric new characters, lots of action and a storyline that reveals as many secrets as it hides.
Director David Yates, who was also at the helm of the last Potter adaptation, the messier Order of the Phoenix, and who is currently filming the final instalments (Deathly Hallows: Part I and Part II), has also created a dark, sinister, foreboding film.
There's action (including a thrilling opening scene that sees us flying through the streets of London), and eerie otherworldly special effects. But, more notably, there's plenty of tension, as if this film is a bit of a filler, an ominous warning getting us ready for the final chapters.
Among all the doom and gloom there are still a few welcome laughs, mostly thanks to raging teenage hormones and love potions. Ron Weasley (Grint) finds himself the object of Lavender Brown's (Jessie Cave) suffocating affections, Hermione (Watson) is herself frustrated with jealousy over one of her fellow students, and Harry (Radcliffe), while his mind is on bigger things, finds time to be wooed by the sensible and quietly charming Ginny Weasley (Bonnie Wright).
The acting from the younger cast members keeps getting better, though Radcliffe still occasionally looks uncomfortable, like he's not sure what to do with his arms. With a wand in his hand though, he's utterly convincing as the increasingly confident "Chosen One".
At 153 minutes, this is a lengthy and, at times, ponderous affair which could have done with some tightening. Some scenes feel disjointed, as if Yates was ticking off a list of required moments that needed to feature. But it's what we have come to expect from the series - a good film, but one that hints the best is yet to come.
Francesca Rudkin

Cast: Daniel Radcliffe, Rupert Grint, Emma Watson
Director: David Yates

Running time: 153 Mins

Rating: M (Fantasy Violence)