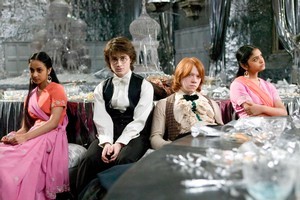 Herald rating * * *
Last year's Prisoner Of Azkaban was the first of the Potterflicks to actually cast its own cinematic spell.
It felt like they had finally got it right after the first two didn't do much more than a show-and-tell of J.K. Rowling's books, albeit to a large and appreciative audience.
There's a lot that's right or better than its predecessors about the fourth instalment - the acting, the special effects, the sense of deathly peril and the depiction of the teenage growing pains of our trio of chums.
But Goblet of Fire still feels like its cup overfloweth by cramming too much of Rowling's 700-page plus volume and its many digressions on to the screen, and its lengthy running time.
True, much has already been excised in the process by English director Newell and American screenwriter Steve Kloves.
But it's a film where the momentum too often flatlines when it should be building towards Harry's final face-to-face with you-know-who.
Ostensibly built around Harry's surprise underage selection in the interschool and potentially lethal Tri-Wizard tournament, it's a film which can't seem to keep its eye on the quaffle, bludger, or indeed the snitch.
As it hesitantly chops between those life-or-death contests, the build-up to the school's Yule Ball, various new characters and sundry sub-plots, it becomes an intense juggling act.
Its density of detail also assumes we remember everything that has gone on before - after a spectral Sirius Black appeared in the fireplace, it took me most of the rest of the movie to remember he was the Gary Oldman character from the last film and even then, the scene still caused much head-scratching. And there are many similar moments of consternation which makes Goblet of Fire fizzle a little through its middle patches.
However, there's also much to like. Gleeson as "Mad-Eye" Moody, the crackpot new Defence Against the Dark Arts Professor is the best addition to the Hogwarts staff since Alan Rickman's Professor Snape, who doesn't get much to do this time.
As for the lead teen trio, they seem to have found their feet acting-wise. Radcliffe is more assured, Grint could mope for England, and Watson delivers a convincing line in occasional teen hysterics.
The big special effects sequences - including the Quidditch World Cup, the dragon dogfight, and Harry's underwater adventures - do offer some visual wizardry upgrades on the previous movies.
And the finale revealing an unrecognisable Fiennes as Lord Voldemort is really something, even if he's not quite as scary in the flesh, as say, Darth Vader without his helmet (And the scene proves that a wizard's wand is but a light sabre with a bigger battery too).
It does deliver on the promise that it's deeper, darker and more deadly - the PG censor's rating of the previous three has been upped to an M - but it's just a little dense and dreary around the edges too.
Still, if you've come this far you'll emerge satisfied in that knowledge that, phew, only three to go.
CAST: Daniel Radcliffe, Rupert Grint, Emma Watson, Michael Gambon, Brendon Gleeson, Ralph Fiennes
DIRECTOR: Mike Newell
RATING: M, medium fantasy violence
RUNNING TIME: 157 mins
SCREENING: Village, Hoyts and Berkeley cinemas from Thursday