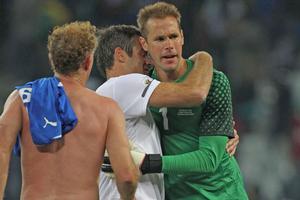 New Zealand produced one of the upsets of the World Cup in holding current world champions Italy to a 1-1 draw in their second Group F match.
Similar scenes to that of the historic 0-0 draw against Iraq in last year's Confederations Cup graced our screens this morning but it will be this result that will cause a stir around the football world.
In what was meant to be a formality for the Italians, the All Whites again produced a performance that was based on sheer guts and determination - the driving force behind this squad.
Coach Ricki Herbert has implemented a clear, defined game plan that fits the mould of his side. We are not going to pass our way through teams but we are organised and have a belief that we can overcome the best of international football.
The All Whites have proven so far that pretty football does not always get results.
I would love to see our guys knocking the ball around like Argentina or Italy. We may not be as technically gifted as these teams or have a number 10 like Lionel Messi, but the team plays to a pattern within their abilities and it has been working.
I have no doubt the Italians studied the New Zealand game plan from the warm-ups and the match against Slovakia. Any good team would. The same can also be said for the referee.
The man from Guatemala blew everything that resembled a free kick in favour of the Azzuri and own tactical approach seemed to work against us for long periods.

Italy played into his mindset, rolling on the ground clutching their faces with any raised elbow or shove from Rory Fallon or Chris Killen. On the flip side, Leo Bertos copped one from Domenico Criscito without notice from the referee.
The challenge from Tommy Smith on Daniele De Rossi could have gone either way. I have seen strikers get yellowed for similar instances and unfortunately for Smith, and like so many strikers in the modern game, as soon as you get touched in the box, down you go.
It wasn't Fallon's night either as he was substituted early in the second half. Fallon is going to have to take into account that his type of game is going to get more attention. I'm sure Paraguay will be watching and will employ similar tactics to counteract the physical presence of our front three.
In the lead up to this match the Italian media were getting very scratchy that the very thought of losing to New Zealand would be nothing less than a national disaster.
Being world champions meant that they had everything to lose. Their first up draw with Paraguay was lacklustre and typical of previous Italian campaigns but they have the knack of getting better as the tournament progresses.
Italy dominated every statistic this morning and looking at both the shot and corner counts, it was one-way traffic for most of the game.
They typically looked good coming out of midfield with De Rossi and Riccardo Montolivo. I thought the introduction of Mauro Camoranesi in the second half really lifted their intensity and urgency. This resulted in the New Zealand defensive lines camping out in front of Mark Paston's box, with any clearance or productive influence moving forward being thwarted based on sheer numbers.
Finally, I must give a mention to Paston. He was outstanding in every aspect of his game. He came and collected crosses when he had to with no hesitation. He looked composed and focused and his shot stopping was world class. It was a pity he could not replicate his penalty saving heroics from the Bahrain game. A little too much to ask for no doubt.
The All Whites have proven they are not a team you can take lightly. Who would have thought that going into the third game of pool play we would be in the running for a place in the knockout stage? I know we have not won anything but this team has already far exceeded any expectation and continues to amaze.
They have done wonders for the game in New Zealand. My seven-year-old son's Te Atatu Football Club has a World Cup format on Saturday mornings. It's fantastic. The kids all want to be in the New Zealand team. After the Slovakia game we had to replicate Winston Reid's goal in the lounge with the couch as the goal. Guess who he wanted to be? I can tell you I was Shane Smeltz crossing the ball for him to nod it past the cat in goal.
It's inspiring not only for our kids but big kids like me. I still can't believe it, but belief is the biggest hurdle these guys have overcome. A lesson learned for us all.