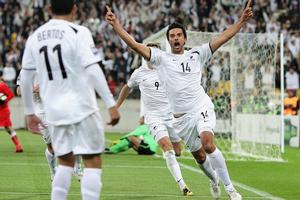 The All Whites' World Cup love affair finally becomes reality tonight as they take on Slovakia in their opening Group F match.
Fuelled by creditable performances in their build-up, international eyes have been sitting up and taking notice. I know my chest filled with pride as I watched our lads get stuck in and go about their business in a professional manner over the past three weeks.
Australia, Serbia, Slovenia and Chile are all world class quality and have been the perfect rehearsal for Ricki Herbert's side. Despite Tim Brown's shoulder, the weather has been pretty clear.
Slovakia
Slovakia is a great first up opponent for the All Whites. They don't have the pressure associated with heavyweights like Brazil, England or Spain - where keeping your head clear and nerves calm would be a difficult task.
Slovakia will mirror Slovenia in many ways. A short, sharp passing game with good technique and discipline. They will be well organised in defence by Liverpool's Martin Skrtel (providing he is fit) and in Marek Hamsik they have a midfield general capable of making things happen.
Bochum-based striker Stanislav Sestak, who top scored in qualifying with six goals, is also someone to watch out for.
Do not be fooled into thinking commentators Andrew Dewhurst and Fred De Jong have got their wires crossed when they mention the name Vladimir Weiss. He is both a midfielder and the manager, a father and son combo that go by the same name.
Slovakia is a tough customer first up but our expectations have been growing recently and talk of a New Zealand result has been mounting.
Italy
If playing at the World Cup is not enough, how about playing the reigning champions. Game two for the All Whites will be nothing but magic against a country that is World Cup royalty.
History tells you Italy are very hard to break down, with a stubborn defensive mindset led by 133-game veteran Fabio Cannavaro. They have gifted midfielders in Andrea Pirlo and Daniele De Rossi, while up front they often do just enough to win.
The four-time World Cup winners got a taste of New Zealand in the lead-up to last year's Confederations Cup. The All Whites got the jump on the Italians, leading three times before going down 4-3. Although it may have been a practice match, being world champions meant Italy had everything to lose.
Marcello Lippi's men will not take New Zealand lightly again. Difficult they may be, I have the feeling that if the Italians have a bad hair day things may turn out differently.
Paraguay
Paraguay in game three poses an unknown threat. Depending on the first two games this could be make-or-break.
Paraguay finished ahead of Argentina and Uruguay in the CONMEBOL region of qualifying. Sunderland's Paulo Da Silva will be the rock in the heart of defence while Manchester City's Roque Santa Cruz will become Paraguay's all-time leading scorer should he hit the back of the net four times in South Africa.
I feel the South American brand of football troubles us more than the European style. They are highly skilful, technically superior and we often find ourselves chasing shadows.
On the flip side, one of the down falls I see in the South American game is their ill discipline. They can be confrontational, not only with their opponents but with each other.
Internal squabbles often spell danger for most teams. We have all seen those unsavoury images out of South America, where the bench and supporters get involved and it makes a mockery of the event. We got a glimpse of the Serbian fans doing their best to spoil the occasion a couple of weeks ago.
The All Whites have an amazing opportunity to create history on the world stage. Now is the time to put all other things in life on hold. Cast aside both the positive and negative speak from the last three weeks - they don't matter. Whilst the players can gain confidence and belief from what they have achieved, it all comes down to how they execute in the next three games.
To grace a World Cup is a dream come true. To be the final team standing would be the ultimate. June 15 has been a long time coming and finally, after 28 years, it's time to 'give em a taste of Kiwi' again.